I made this up based on what I had in my kitchen… little potatoes, fresh basil, grape tomatoes, fresh raw cheese and garlic. This is how I make up a lot of my meals and they usually come out successful. I guess you would call me a "spontaneous cooker". Sometimes when I don't really have a plan for a meal… I look at what I have and make something out of it. The results are usually 99.9% very good :o)
This yummy garlicky side dish is excellent with a salad for a simple vegetarian lunch or with grilled chicken for a Italian dinner. I love my potatoes to have a mixture of creaminess and chunkiness… the cheese compliments it very well. The tomato throws in a wonderful juicy flavor while the garlic gives it a slightly spicy kick into the mouth. Can't leave out the basil… talk about a herb with a taste of it own!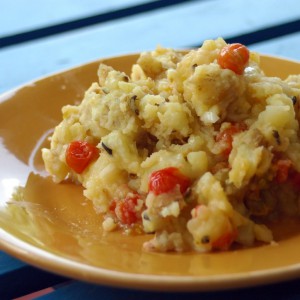 2-3 lbs potatoes

1/2 cup potato water

1/2 cup butter

1-2 cups chopped mozzarella cheese

1-3 tsp. sea salt

1 tsp. pepper

1 red or yellow onion, chopped

3/4 cup chopped fresh basil

5-8 garlic cloves, chopped

2 cups grape tomatoes




Cut potatoes into chunks and add into a big pot add with water. Bring to a boil and skim out the foam (contains impurities) that rises to the top. Let potatoes cook till tender (not mushy!).




Before draining, reserve 1/2 cup of the water and set aside. Drain potatoes and add water, butter, cheese, pepper and sea salt. Stir with a big spoon till everything is well mixed. Stir in onion (I prefer red onions, but didn't have any), basil and garlic. Lastly, fold in the grape tomatoes and be careful not to mush them too much.




Let everything sit with lid on for 10-15 minutes for the flavors to settle in.



Heap a pile onto your plate and enjoy!