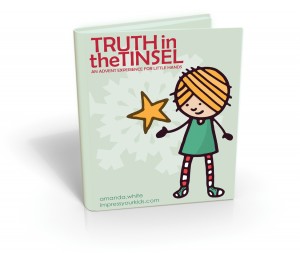 The Meaning of Advent
Before I share more about "Truth in the Tinsel" and our advent experience… let me tell you what the word "advent" means.

It means "coming"… which came from the Latin word adventus.

During the four weeks before Christmas, we are remembering the beautiful history of God's people yearning for thousands of years for the Son of God to come.

Through this time we are reading scriptures, making crafts and acting out the stories to honor the first advent of Christ. It is also a time to remember, as followers of Jesus, to be looking for His second advent.

Our hope in His return.

About Truth in the Tinsel
If you are thinking its too late to start the advent… you are in for a sweet surprise! Included in the ebook are different schedules you can follow and you can start anytime.

Truth in the Tinsel will help you and your family to slow down and reflect on the true meaning of Christmas. In it you will find daily scripture reading and simple directions for making ornaments with the kids.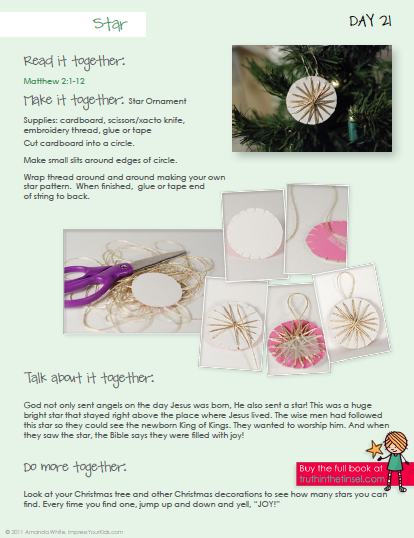 As each day comes and goes, the kids will learn to truly understand what the celebration is all about (the birth of Jesus) and get excited about the real meaning of Christmas.

Please take a few minutes to watch this video the author put together to explain how to use the ebook.


I love how this spunky gal made this advent ebook so simple and fun!

Our Experience So Far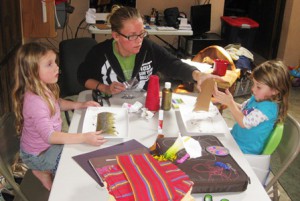 Honestly… we are LOVING it! My girls are eating it up and having so much fun doing the crafts. They also love to act out the scriptures while my hubby is reading them out loud.

I am enjoying it because it is all ready and done for us… we just need to make sure we have the supplies needed for the crafts and that's about it!

I also like the flexibility I have to make some modifications or changes on the crafts. I just use what I have and make it work!

As I mentioned earlier, we are also using Truth in the Tinsel with the kids we minister to at Rancho Oasis. The author put together a Spanish version of the advent ebook and it has been a great resource for us!
Truth in the Tinsel on Facebook & More
If you decide to buy this advent ebook… you can also join the Facebook group and share pictures, ideas and encouragement with other families who are doing the advent.

If you have any questions or want more information… go to this post: Top Ten Questions, Tip & How-To's for Your Truth in the Tinsel Experience.

Have a beautiful and simple Merry Christmas!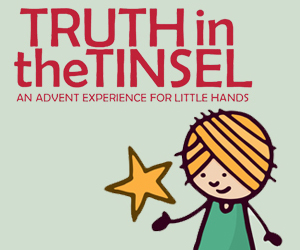 This post contains affiliate links and I will make a small commission from each purchase… no charge to you! Thank you for supporting me and my family through your purchases on my blog.