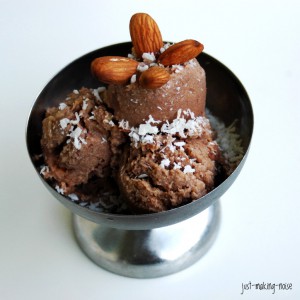 Sometimes you feel like a nut, sometimes you don't!
Marillyn Beard Almund Joye Ice Cream's got nuts!
I'm sure most of you are very familiar with this jingle from the Almond Joy and Mounds candy commercials. Who isn't?
I decided to make this one weekend because we were all talking about how much we used to love Almond Joy candy. All that coconut stuffed inside a perfectly thin chocolate coat with a single almond on top. Almost like saying, "Pretty please, with an almond on top?"
Anyway, we made this a few times before finally deciding that it was "perfect" to share with you all. Now, you might be wondering why I spelled it "Almund Joye"… just simply because I didn't want to steal the original name and get sued for it, but (really) it was my hubby's idea. Why not? Its fun, silly and almost like it's said through a mouthful of that yummy chunky ice cream. We hope you will enjoy this delicious, honey-sweetened ice cream and allow the memories tingle your mouth. Eat it all in one sitting if you want to… it's healthy and nourishing!
Almund Joye Ice Cream

3 cups milk (regular or coconut milk)

3 egg yolks

1 Tbsp. arrowroot

1/2 cup honey (or more if you want it really sweet)

1 tsp. vanilla

4 Tbsp. cocoa powder

1/2 cup coconut flakes

1/2 cup chopped almonds

In a blender, mix milk, egg yolks, arrowroot, honey, vanilla & cocoa. Throw in coconut flakes and almonds, blend for a second. Pour into your ice cream machine maker and follow instructions.

NOTE: If you DON'T have a ice cream machine maker. Simply pour into a plastic container and put in freezer. When frozen, set it out and let it soften before putting it back into your blender. It will have the consistency of soft-served ice cream. Yummy!
Print this off, make it & tell me what you think!