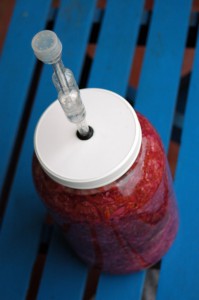 While we were in the states for two weeks (which I still need to update you all soon) I picked up a Picklemeister (also called Fermented Vegetable Master, but I am going to call it Lacto Master). I read and heard many of the gals from my natural/organic livings group raving on about how delicious it is (better than the Mason jar method). So, of course I had to pick one up so I can try it out for myself and see if there really is a difference taste-wise. I made plans to use it when the time came to make more kraut.
So, Last Thursday afternoon I found that we were low on kraut and it was time to make more! I put everything through the food processor and mix everything up in two bowls. Now, this is where you normally start pounding the mixture, but I am SO HAPPY to share with you a "no-pound" method that I found at Kimi's blog. No more pounding your cabbage for 15-30 minutes! Woohoo! That was one thing I didn't particularly enjoy during my kraut-making routine, even though it was a good workout for my arms.



"No-Pound" Method

Shred or chop your cabbage into a big bowl.

Add sea salt and whey, mix it in well.

Cover with a cotton towel.

Chop, slice, or shred the rest of your veggies (optional).

Mix it with the cabbage.

Leave mixture for 15 – 30 minutes.




The sea salt naturally draws out the juices from the veggies. This was found in a Russian cookbook by Kimi.



That's how the "no-pound" method works! So easy and less time-consuming. I can't believe I didn't think of that before because I've always knew that salt draws the water out of the veggies. I am sitting here, hitting my head and telling myself, "DUH!". LOL!!
Anyway, I had so much juice that I actually had to take some out after putting the mixture into the Lacto Master, but you want to make sure you have the juice (brine) covering the cabbage mixture. I gave the extra juice to my chickens and they slurped it up :o)
After putting the lid and airlock on… I set it on my counter with a towel wrapped around the jar to keep the sun out. I let it ferment for 4 days (we were out of town through the weekend). On the fourth day, I tried it straight from from the jar and….
The taste is fantastic! So much better than the mason jar method that I have been doing for over 2 years. I love how the sourness is not overwhelming as it sometimes is using the mason jars. I can totally eat this straight from the jar if I am looking for something quick and yummy to snack on.
So what made the difference? The airlock… It is set up to allow the gas to escape during the fermentation process while keeping air out, which will oxidize the veggies and promote mold growth. Because the gas is being released slowly throughout the fermentation process, there isn't that slightly strong, yeasty flavor that I often find in my mason jar kraut. I had the rest of my family try it and they all noticed a big difference with the flavor. My dad noticed that it was juicier (from the "no-pound" method) and my hubby noticed that the veggies were crunchier. My mom even liked it and she normally doesn't because of the whey (she doesn't like the taste of it). I am guessing that the gas being released helped lessen it.



Picklemeister (Lacto Master)

Wash all parts in warm soapy water.
Wash 4 medium cabbages, set aside a large outer cabbage leaf. Remove cores and slice very thin or as desired. Place in a large bowl, preferably plastic.
Add 3-5 TBS sea salt (or 1.5 T sea salt and 1 cup of whey) to the cabbage and mix it in well. Slice, shred or chop any other veggies you like. Carrots and beets are good in kraut. (This is where you can do the "no-pound" method) Pound for about 10-15 minutes with a krautpounder, mallet, tenderizer or hammer till the juices come out of the veggies.
Start adding the shredded cabbage/veggies to your jar a little at a time. Every time you add more cabbage, pound it down with your fist or krautpounder to press the juices out. Make sure there are no air bubbles trapped in the cabbage as you go. Fill the jar to the bottom of the cap threads. Most of the time, if you pounded long enough, it will produce enough juice (brine), to cover the cabbage . Add water if needed, to make sure the veggies are covered with liquid.
Take the large cabbage leaf and set on top of your veggies in the jar. Gently press it down so it is covering your veggies, submerging them under the liquid. You want your vegetables to be submerged under the liquid during fermentation so the air in the jar won't oxidize the veggies on top and turn them brown.
Now screw on the lid, fill the double bubble air lock with water to the marks on both sides, then insert the air lock gently, but firmly into the grommeted hold in the lid until it stands straight up on its own.
Set the Picklemeister on a plate or saucer in case of over-flow during fermentation.
Move the Picklemeister to a cool place about 60-75* and away from sunlight. Leave for 4-5 days.
Either move the sauerkraut to another container, or remove the air lock from the Picklemeister and use a solid cap on it. It's ready to be refrigerated. I like to divide it up into pints and quart jars.
Many people believe the sauerkraut gets crunchier and the taste gets better after a week or so in the fridge. It should keep well in the refrigerator for several months, even years.
Enjoy. Your guts will love you for it!
Stay tuned, because I might do a Lacto Master giveaway in the near future! Meanwhile, if you can't wait to get one… simply purchase one @ Cultures for Health.
Did you know?




The earliest written instructions for making lactic acid fermented foods are found in the writings of the Roman scholar, Pliny, in the 50 AD. The Romans knew the benefits of sauerkraut and other lactic acid fermented products. On extended journeys to the Middle-East, Emperor Tiberius carried several barrels of sauerkraut which they believed protected them against intestinal infections and kept them strong.




Also, in the 18th century many sailors suffered from scurvy, a deficiency of Vitamin C. When Captain Cook sailed around the world, he carried sauerkraut which is very high in Vitamin C and over his three years voyage did not lose a single man. During that time they begun to focus more on nutrition. The same thing is happening in our time! For many years we, as a culture, have gotten away from live food. More and more benefits are being rediscovered from them simple, age-old tradition of lactic acid fermentation. There is a growing group of people are rediscovering not only better health, but also great tasting food; Letting food be their medicine and medicine their food. -Wisemen Trading and Supply
I love the rich history that surrounds lacto-fermentation! It is truly amazing how these people survived and thrived on fermented food. As always… there are valuable lessons we can learn from history. Just because it is history doesn't mean it can be done again today.
So, I
f
y
o
u
d
o get one or have one already… PLEASE leave me a message and let me know what you think!

Thank you and enjoy!!