I have fun news to share with all of you!
Last night I checked my email right before going to bed and found an email from
Scotty Snacks
&
Tangle Noodle
&
Savor the Thyme
telling me that I won a prize in their
Ice Cream Social (Thanks guys)
!
The prize is coupons for free ice cream and frozen yogurts, courtesy of Stonyfield Farms. I've never tried their ice cream… hopefully they have chocolate chip cookie dough. That's my #1 favorite and you will be surprised to know that I haven't made my own kind yet. Someday, soon, I will :o)
But that's not all! Check out
Tangle Noodle's blog
… she wrote a a paragraph about my ice creams that I submitted into the Ice Cream Social. Scroll down towards the bottom of the post. You'll recognize my pictures.
Anyway, I thought it would be good to celebrate the news with more ice cream… Woohoo! Here I am going to share with you a wonderful, fruity ice cream that left my tongue dancing for more! After the first mouthful… I was swept away in a memory of eating Rainbow Sherbet on a cone at the Thrify Store in California when I was a young girl (Thankfully, this ice cream is much healthier). I love the beautiful colors and flavors of this ice cream. This has become one of my top favorites… after the
Almond Dream
of course :o)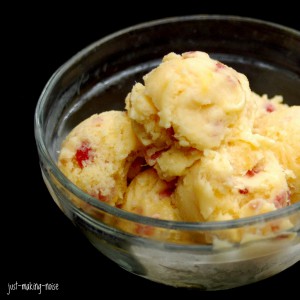 2 cups chopped mango (about 1 lg. mango)

1-2 Tbsp. lime juice

4 Tbsp. raw honey

1 Tbsp. arrowroot

2 egg yolks

2 cups milk

1/2 cup dried cranberries, chopped

Using a fork, hand-mix everything together in a big bowl and pour into your ice cream maker. Follow your maker's instructions.




If you DON'T have a ice cream maker. Simply pour the mixture into a plastic bowl and put in freezer. When frozen… take it out, let it soften a little (not too much!) and scoop it into your blender. Blend till creamy (not too long!).