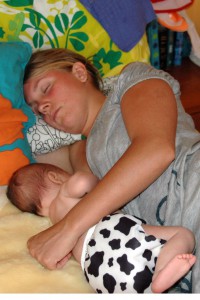 KEEPING DIGESTIVE PROBLEMS AT BAY
taken from

Take Charge of Your Child's Health

pp.123,124 by George Wootan, M.D.

Another good reason to keep your baby on a diet of breastmilk alone is that a baby's intestinal tract is not fully developed until several months after birth, perhaps as late as 18 to 24 months. Digestion is a complicated breakdown process that begins in the mouth when food is mixed with saliva, and continues throughout the digestive tract, with the stomach, pancreas, liver, and intestines all playing a unique role. Various enzymes are involved in each stage of digestion, speeding up the breakdown of food and converting it into a form that can be utilized by the body. Some of these enzymes are present only in very low levels or are entirely missing from the infant digestive system.
One of these enzymes is amylase, which plays a key role in the digestion of carbohydrates. The common suggestion for a baby's first food is cereal or fruit, both carbohydrates. However, amylase is present at just 10% of adult levels in an infant's small intestines, and is virtually nonexistant in the pancreas until at least six months of age. Ptyalin, an enzyme in saliva that breaks down carbohydrates, does not appear until around 12 months of age. When carbohydrates are introduced into a baby's diet too early, he may be unable to digest them completely. The result can be poor nutrition due to failure to absorb the nutrients in the food, and possibly diarrhea.
This lack of enzymes presents no problem to the breast-fed baby, since human milk contains more than 20 enzymes that become active in the stomach so that the milk is easily digested. One of the most important enzymes contained in breast milk is lipase, which helps to break down fats, from which 40 to 50% of the energy in both human milk and formula is derived. Not only is formula completely lacking in lipase, but at least one researcher has suggested that 'these compensatory, or complementary, mechanisms for fat utilization…are less effective when cow's milk fat or other fats are introduced into the diet'–so that the baby who is fed supplementary formula may have more trouble digesting even breast milk than if he were on a diet of breastmilk alone.
Some lipase is produced at the back of the infant's tongue as he nurses. You may have noticed the 'milking' action that's made with the back of the tongue as an infant sucks. It seems probable that this action helps to stimulate lipase secretion and to mix the lipase with the milk to begin digestion. Since drawing milk from a bottle involves just sucking, this effect is eliminated if a baby is bottle-fed.
Because formula contains no enzymes, the bottle-fed baby is more prone to digestive problems. Protein molecules, which may cross the underdeveloped intestinal lining before they have been completely broken down, can be particularly troublesome. These molecules can then act as antigens, causing an allergic reaction. Digestive problems are often compounded when modified food starch, a common ingredient in commercial baby foods, is added to the diet. Modified food starch, usually derived from corn or tapioca, has an even lower level of digestibility than othehr carbohydrates. In order for modified food starch to be effective, it must make up approximately five percent of the product. While this may not sound like much, at this level it contributes about 32% of the food's total calories.
My recommendation regarding solid foods before one year is to start with protiens rather than carbohydrates and to introduce them no earlier than at eight months of age, but preferably not until one year. Hydrochloric acid, which helps digest protein, begins to appear in the stomach around the seventh or eighth month of life.
It would seem, therefore, that the body would first be ready to digest proteins (at eight months) and then carbohydrates (at one year). By holding off on introducing any solid foods (or formula) until the age of one year, you can be certain that the digestive tract is sufficiently developed to be able to handle the foods you put into it. Remember, too, that breast milk contains everything your baby needs to thrive and be healthy for at least the first year of life, probably for the first two. There's really no reason to feed him anything else, and there are several good reasons not to.