After a crazy weekend of completing our residency process, making cultured colostrum butter, cooking up yummy food (will post them later) and spending wonderful time with my family… I am finally able to sit down, do some much needed writing and share a recipe with you all.
So, it is official! We are residents of Costa Rica. It is amazing that we were able to finish the process in less than a year. God is great! Please read about our day on our
RO4Y blog
.
After we were done with all that… we went to one of the few Asian markets in downtown San Jose. I had a list of specific things I was hoping to find:
Now, you are probably thinking "Dried anchovies?! Why?!" Well, I read a post by
The Nourishing Gourmet
and was motivated to try it. I am always on the lookout for new snack ideas for us, especially for Naomi. Well, I couldn't find anchovies… BUT I was able to find the next option:
Sardines
. Looks pretty appetizing, huh?
I went ahead and got them because I recently read an
article
posted by
Sustainable Table
on my Facebook. I learned that Sardines are making a sustainable comeback. They are very healthy
(full of omega 3s and contains less mercury)
, environmentally fished and much better for the earth than eating a huge chunk of tuna or swordfish
.
Sound bite:

Eating smaller fish also offers health benefits. Because sardines eat mostly plants, they do not accumulate high levels of mercury or PCBs the way larger, carnivorous fish such as tuna or salmon do. Sardines also live shorter lives: six years vs. about 10 for tuna, meaning less time in the ocean to absorb hazardous toxins. Those factors, say the Sardinistas, plus high levels of protein and omega-3s, make sardines an excellent option for pregnant women, children and eco-conscious college students on a budget. –Jane Black / The Washington Post
I also checked and saw that the sardines were dried and packaged in Japan. Which is a good thing because they have better food standards then China. So, I'll let you know how it goes with the family :o)
I was hoping so hard that I would be able to find some, but no luck. The staff there had never even heard of it. Sadly, I'll have to wait till I go to the states in July and look in the Asian stores near where I used to live.
Last on the list: Coconut milk/cream
I love coconut products! I wanted to stock up and was excited to find a overstock sale on the brand I liked. A big box of fresh coconut milk (with NO preservatives or flavorings) for about $3.00… I bought 6 boxes! I am planning to make some Thai curries, ice cream and have fun ideas to try.
So, after picking up all these… I decided to wandering around a little and explore. I wanted to find something unusual and found:
Pomegranate Molasses!
I instantly had the idea to make ice cream with it, which is what I did after we got home. It was so yummy! It gave my mouth a wonderful sweet, sour tingle. I wish I could find fresh pomegranates in Costa Rica to beautify the ice cream with berries, but this is good enough.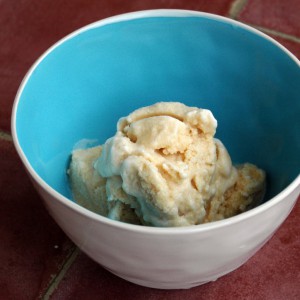 3 cups fresh whole milk or cream

2 egg yolks

1 Tbsp. arrowroot powder

1 Tbsp. vanilla

4-6 Tbsp. raw honey

1/2 cup pomegranate molasses


Put all the ingredients in your blender and give it a whirl for a minute. Pour into *ice cream maker and follow your maker's instructions. When done, scoop it out into bowls, drizzle honey over it and garnish with fresh pomegranate berries. Store the rest in a plastic container in your freezer.




*This recipe is for a 1 1/2 quart size ice cream maker.


NOTE: If you DON'T have a ice cream machine maker, just pour into a plastic container and put in freezer. Once frozen, you can put it back in your blender, let it thaw a little and cream it up.