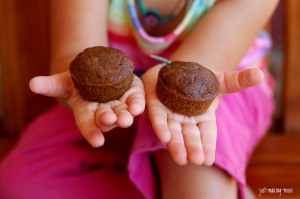 This week is Holy Week here in Honduras… we are taking the week off and spent much needed family time. Our home church was here last week and it was an awesome time of fellowship and encouragement. We miss them and look forward to seeing them this fall when we come state-side. Please stop by the RO4Y blog to read up on what we are doing here.


Anyway…


Are these little muffins adorable? Is my little girl adorable? Sorry, couldn't help it! :o)


I'm excited to be able to make mini-muffins using my tin mini muffin pans
that my mother-in-law got for me. They make fantastic snacks for all of us, especially now that Naomi is going to Kindergarden in the mornings (primarily to learn Spanish). Like clockwork, she asks for her snack exactly at 9:30! She's funny that way :o)


Anyway, I wanted to make carrot cake in a muffin form using coconut flour
. I got this recipe from Elana, but made a few changes… such as adding in some spices, nuts, raisins and molasses to give the muffins that moist, spicy carrot cake style… oh yum!


You will see below that I've given you the option of how much honey and molasses you want to use for the mini muffins. If you don't want a strong molasses flavor than go with 3 Tbsp honey and 1 Tbsp molasses. Using half and half… I found the molasses very light with a slightly spicy flavor. These yummy guys are sure to please the whole family and are great travel snacks!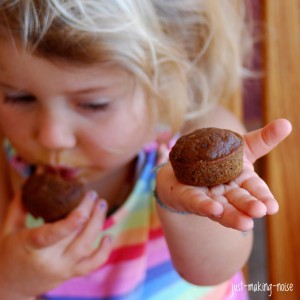 Carrot Molasses Mini Muffins
1/4 cup coconut oil, butter or other
2 Tbsp molasses (or 1 Tbsp)
1/4 cup raisins, soaked in water
Preheat oven to 350. In a small bowl, soak the raisins in some lukewarm water and set aside. Grab another bowl and combine coconut flour, sea salt, baking soda, cinnamon and nutmeg.
In a large bowl, mix together eggs, oil, honey, molasses & vanilla. Add in dry ingredients and blend till very smooth and wet. Drain raisins and fold in carrots, raisins & chopped walnuts.
Grease and powder the mini muffin pans
with oil and coconut flour. Spoon in 1 Tbsp of batter into each cup. Bake for 10 – 15 minutes. Let it cool completely before removing it from the cups to insure that it the whole muffin will come out.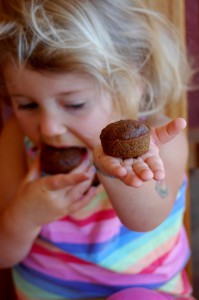 Have a great week everybody!