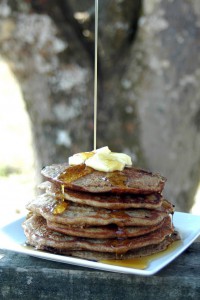 So my Honduran Sourdough buddy and I made crackers a couple weeks ago. Next we decided to go for some pancakes (inspired by Erin's Pancakes Recipe)


To be honest, I was so nervous! I had my buddy in the fridge for about a week and did not know what to expect. After I had some dinner with my family, I pulled him out… fed him 2 1/2 cups whole wheat flour and about 2 cups tepid filtered water. I set him in the warmest place I could find… above my dehydrator and said a little prayer.


Later, I wanted to check on him before going to bed. So, I took a deep breath and said another prayer. Lifted up the muslin cloth that covered the bowl…


And SQUEALED with delight… there he was, doubled in size and bubbly happily!!


I couldn't believe it. I was so excited that I did a little dance right there… LOL! Of course, I said good night to my buddy and ran to tell my hubby. He was half asleep and mumbled something, but I was too excited to care what he said :o) I knew we were going to have some killer pancakes the next morning!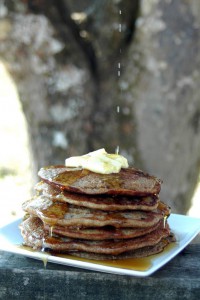 Rise and shine! I got up and head to the kitchen to put my buddy to work. At first I thought about just making blueberry pancakes, then my hubby requested some pecans… hmmm. That gave me an idea. So, went a different direction and threw in chopped pecans, walnuts and added some almond extract along with vanilla. Then a generous scoop of cinnamon went in.


Next, I started pouring the batter into my seasoned cast iron pan and dropped blueberries into the small bubbly circles. My girls and hubby love the blueberries, but I chose to have mine without them and I'm glad I did! The rich flavors of the nuts mixed really nicely with the soft tang of the sourdough. Plus, topping it off with real maple syrup just made it that much more delicious! Of course, I tried a bite with blueberries and it was delicious too! I just was not in the mood for some fruit in my pancakes that morning :o)


After my hubby ate half of his pancakes… this is what he said, "Babe, these are the best pancakes you've ever made!"


This is a very high compliment coming from my hubby. It made me so happy that I felt like I was walking on the clouds! LOL! Seriously, they were so good. One thing I am VERY happy about is how I felt after eating these pancakes… I felt light and satisfied. In the past, I used to soak my batter for 12 to 24 hours and it would still often make my tummy feel heavy. I would also feel tired and cranky… sure sign that the phytates weren't broken down enough for my digestion (or my family's!).


So, a word to my past pancake creations… you guys have been defeated! Sorry! :o)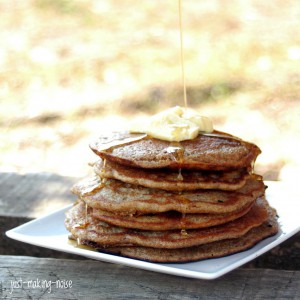 Nutty Sourdough Pancakes
2 cups sourdough starter (fed in the previous 12 hours or so)
4 Tbsp butter and/or coconut oil
1/2 tsp sea salt
1 egg
2-3 Tbsp raw sugar or raw honey
1/2 tsp vanilla extract
1 tsp almond extract
1 tsp baking soda
1 tsp cinnamon (generous)
1/2 cup chopped pecans (soaked & dehydrated is best)
1/2 cup chopped walnuts (soaked & dehydrated is best)
frozen or fresh blueberries (optional)
Top with real maple syrup, yogurt and/or fresh fruit
Before mixing up your pancake batter… heat up your cast iron skillet on low heat with a little oil or butter. Best to have your pan nice and hot before pour the batter in.
While skillet is warming up, mix together in a large bowl melted butter/oil, egg, sea salt, sweetener, vanilla extract, almond extract and cinnamon. Pour in your two cups of sourdough starter. Stir well and fold in nuts. Sprinkle baking soda and quickly stir.
Spoon your batter into the hot skillet (test it with a little water, it should fizzle) and make small or large circles of pancakes. Flip when you see bubbles on top, edges starting to brown and the bottom is nicely golden. Continue till you've used up the batter.
Serve with your choices of toppings! Buen provecho!
GREAT TIP: Before adding baking soda to your batter, divide the batter into two bowls. Add 1/2 tsp to one bowl. Stir well and make your pancakes. Once you've used up that batter, stir in 1/2 tsp baking soda into the other bowl. Stir well and make your second set of pancakes. You will get more rise and fluffy pancakes if you use this method. I'm sure you've noticed the batter gets "flat" after sitting for a while.
Don't forget you can join me on this adventure! If you've made sourdough pancakes, please leave a link to your blog in the comments below. I want to see what you've made! If you have not signed up for the eCourse and want to… go here! OR if you don't want to join the eCourse because you are not interested in the classes or can't afford it… purchase the AWESOME

Sourdough A to Z eBook for only $20!

It includes everything the eCourse offers (all in text & pictures), PLUS a lifetime of updates!
Hmmm! Just look at that picture… you can't pass this up! This will be our on our weekly breakfast menu from now on :o) Have a great week! Hugs!