So far, I've been having lots of fun with my Honduran Sourdough buddy. I made pancakes this morning and they were a HUGE hit! I loved how I felt after eating them… satisfied and light. I will post more about it later. If you haven't… read my Sourdough Journal #1 & #2!
Now, I have some exciting news for you all! The gals heading up the GNOWFGLINS sourdough e-course just released a brand new e-book… Sourdough A to Z eBook!!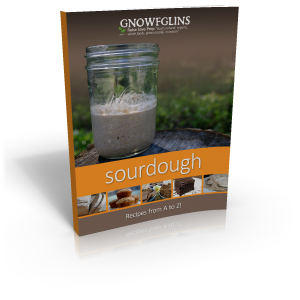 Well, let me ask you a couple questions…
Do you have the time or desire to watch videos or take classes online? I don't… well, I can't! I rely on closed caption to understand when watching a video or movie, which is not provided on pretty much all videos online. I've been enjoying the sourdough e-course very much, but… I have not been able to enjoy the videos that come with e-course, which BOTHERS me! But that's life for me :o)
Do you have access to the internet? I do… but I have limited satellite connection, which means that I can't always upload the videos or else we will get knocked down to dial up. Besides, my first reason is also a factor.
Now, my point… I am so excited about the e-book because the ENTIRE sourdough e-course, all 24 weeks of tutorials and recipes (everything from crackers to pasta to bread to cake to pies to english muffins… you name it, they got it!), is now available in a 150-page e-book! Now I can print or read online everything that I have been missing from the videos! Yeaa!
The e-book, Sourdough A to Z, has all the text materials from the course, including easy-to-print recipes, FAQs and additions they pulled from conversations and discoveries the e-course members have been asking and sharing on the forum.
All for simply $20 PLUS it includes lifetime updates… which means you will be informed when there are new recipes and tutorials! This is a killer price for those who cannot afford the e-course or have no interest in taking an online class. Think about it… the whole e-course in one book for just $20!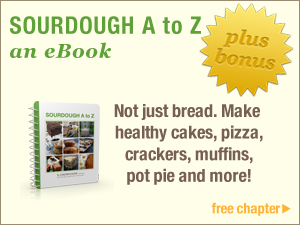 If you are interested in buying the eBook… NOW is the time to buy it! Discounts are only for e-course members, but they are offering a great deal for those who are not members (and members too!): Through April 11
th
, if you purchase the Sourdough A to Z, you will receive an email with a code for a free thank you video ($10 value) to be used by April 18
th
.
What's the thank you video? It is a gift from the gals at GNOWFGLINS to you for purchasing the book. It shows you how to make beeswax fabric cloth for non-plastic food wraps and bags… PLUS, it's a NO-SEW tutorial! I'm very interested in that! LOL! BUT if you are not interested in that video there are many other thank you videos you can choose from… browse around here.
Again, if you don't like watching videos or can't (like me)… the thoughtful gals also provided supplementary text materials for the thank you video that can be followed easily without having to watch the video. Although, I am a visual sort of person… I like to watch it being done, then read how to do it ;o)
Now, go grab your copy of the e-book! You are totally missing out if you pass up this opportunity :o)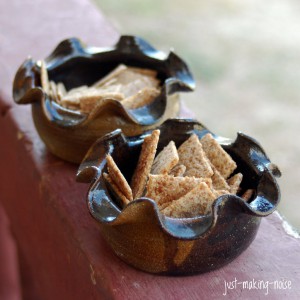 Ok, I know many of you out there would much rather win a free eBook… So, here we go!


The Giveaway…
A free Sourdough A to Z eBook to one winner! Thanks to Wardeh & her gals! I love the book and so excited to get it printed.


How to Enter…
Head over to GNOWGFLINS and sign up to receive her FREE newsletters. Then come back and leave me a noisy comment saying that you did that (if you are already getting her newsletters, go ahead & leave a comment!). That's one entry… please ready on for more entries to increase your chance of winning!


Extra Entries…
You must do the main entry above first before doing the extra entries. Remember that each entry is a separate comment! Thanks and have fun!
Subscribe to receive my posts via email (1 entry)

Follow my blog (1 entry)

"Like" GNOWFGLINS on Facebook and share on your wall (1 entry)
"Like" Just Making Noise on Facebook and share on your wall (1 entry)
Follow me on Twitter and tweet about the giveaway! (1 entry)

Email your friends about the giveaway and leave a comment for each friend you emailed! (1 entry for EACH friend you email!)
Remember, if you've already done most of the above… you automatically get those entries. Please post a separate comment for EACH entry. You can have a total of 7 entries or more!
Every comment must have an email address. You can comment with your blog as long as I can contact you through there! The giveaway ends April 9th and is open to anybody in the world! The winner will be chosen via random.org