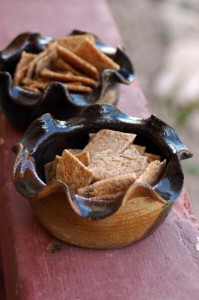 These crackers are SO GOOD! I really need to set up a weekly schedule with making crackers for my family. They are terrific a snack to take with us when we need to head into the city or just to simply have in hand for the girls' daily snack routine. It is so nice to have nourishing snacks in hand at home or when traveling. It feels good knowing that I am giving my girls food that will strengthen them. Why buy processed crackers when you can make your own?


So, I've been learning more and more about the benefits of sourdough through the GNOWFGLINS Sourdough eCourse. One of the benefits of using sourdough for your baking needs is the increase of nutritive value. The lactic acid presented in the sourdough breaks down the phytates by 62%! Phytates are naturally presented in whole grains and acts as an enzyme inhibitor. This enzyme inhibitor is what keeps the grain from sprouting until the proper conditions are present. Which is why it is important to properly prepare whole grains before consuming to get all the nutritional benefits.


When using sourdough… the fermentation from lactic acid begins to dissolve the mineral blocking phytates and allows our bodies to fully absorb the minerals (iron, zinc, magnesium, copper and phosphorous) that are vital to our health. Another wonderful benefit from using sourdough is that the fermentation process makes the grains more digestible and breaks down the gluten. Does all this make you want to whip up a batch of these delicious crackers?!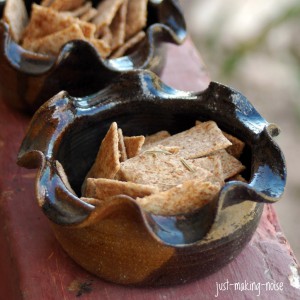 Seriously, they are super easy to make and SO crispy when done right. I mentioned before that I've made soaked version of crackers, but I am now so hooked on these sourdough crackers. I don't think I'll be making the other kind anymore :o) One other thing I love about these crackers is that you can use the discarded starter! Instead of throwing it away (which I can't bring myself to do!) or feeding it to my chickens… I just simply store it in a jar, in the fridge, till you get the amount you need.


When making these crackers I decided to split the dough in half and do two different flavors… savory and sweet. The rosemary is simply heavenly and wonderful with tang you get from the lactic acid in the dough. The honey cinnamon was good, but next time I make these I will not let the dough sit as long. The tang is a little too much that you can't really taste the sweetness of the honey or the spicy cinnamon. Don't get me wrong… it's still very good! My girls (and hubby) love both flavors and have been begging for them since I made them!


With the Rosemary Sourdough Crackers… I basically followed Erin's and Katie's recipes (which you can find in the e-course). But with the Honey Cinnamon Sourdough Crackers… I wanted to try and see if I could get something like graham crackers. After rolling out the dough, I drizzled honey and sprinkled cinnamon on top. Next time, I plan to add the cinnamon into the dough with a little honey on top. I'll try to remember to post the recipe, but it needs a little work for now.




Well, what's next on my list to conquer? Hmmm… I think I will try making pancakes! Will keep you all posted. Come along with me as I learn the beautiful art of making sourdough!