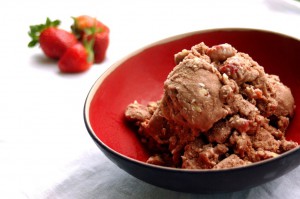 I have to confess that I made this ice cream while we were in Costa Rica. I meant to post it for Valentine's Day last year, but… some pretty big life changes happened and my blog had to be put aside for a while. Now, I am slowly getting back into blogging and hope to share several recipes that have been sitting in my files since we moved to Honduras.
Now, first out of the files I am bringing before you strawberries and chocolate… who doesn't love that combination?! There is something about them that just makes my taste buds dance with delight! Making ice cream with these two is purely delicious, but I couldn't stop there. I had to add some crunch and character… pecans and coconut flakes. Altogether, this makes a wonderful treat for Valentine's Day and any other day when you are in the mood for chocolates and strawberries with crunch & character :o)
Look closely at the picture below… see that cute little hand sneaking in there? LOL! Tabi decided that she had to add some character to my pictures. Remember how she did that with the Strawberry Coconut Muffins? I can't believe how much she has grown since these pictures!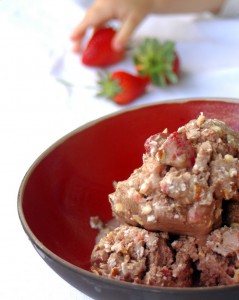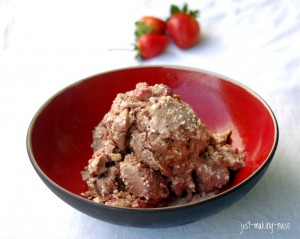 Chunky Strawberry Chocolate Ice Cream
3 cups whole milk and/or cream (or coconut milk)

3 egg yolks

1 Tbsp. arrowroot

1/2 cup raw honey or raw sugar (add more if you want it really sweet)

2 tsp. vanilla

1/4 cup cocoa powder

1/4 cup coconut flakes

1/2 cup chopped pecans

3/4 cup chopped strawberries (fresh or frozen)
In a blender, mix milk, egg yolks, arrowroot, raw honey, vanilla & cocoa till smooth. Pour into a container and let it chill in the fridge for a few hours or overnight. Pour into your ice cream machine maker and follow the instructions.
About 5-8 minutes before ice cream is done. Pour in coconut flakes, pecans & strawberries.
Scoop out ice cream and either store it into a plastic container and let it set in the freezer or enjoy it right away!
NOTE: If you DON'T have a ice cream machine maker. Simply mix everything together, pour into a plastic container and put in freezer. When frozen, set it out and let it soften before putting it back into your blender.
It won't be chunky unless you choose to sprinkle the coconut, pecans & strawberries on like toppings, but the ice cream base will have the consistency of soft-served ice cream. So yummy!!
Enjoy this and hope you all have wonderful Valentine's Day… Especially you Daddio! Happy Birthday and enjoy your bowl below… wish I could make it for you on your special day.