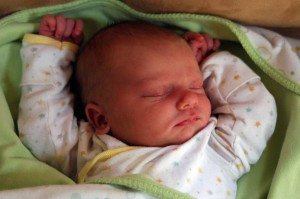 December 14th – 2:30 am
Tobias:
"Believing the Lord is Good"
Dayne:
A hybrid to honor our Dads – David & Wayne
21″
9 lbs & 2 oz.



I am thrilled to introduce all of you to our third child and first son! He is beautiful and very tranquil. So far, he has been a easy baby and I am so grateful. I still can't believe we have a son! My girls are in love with him and can't stop kissing him. I am in love with him and can't stop staring at him. My hubby is in love with him and can't stop snuggling with him. Yes, we are madly in love with our new little guy :o)


The birth was AMAZING and I am looking forward to sharing with you the birth story from the very beginning. We chose to do the birth ourselves… no midwife, no doctor… just family. I want to share with you how the Lord lend us to do this and how He made it very clear to me through several things. Can't wait to tell you all about it and hopefully it will be soon! Meanwhile, you can read two short versions about the birth on our RO4Y blog and/or my dad's blog. Enjoy!


Now, I need some help from you guys. Our little man needs clothes and all we have are the girls' old clothes… no way am I dressing him up in pink and purple frills! I registered at Target for clothes and ChildTrek for toys & books, but if you want to send used or handmade clothes and toys… we will appreciated it the same! Gift cards are also welcome because we can use them when we visit the states.


We are finding out that he is going to be a fast grower… he is already wearing most of his 3-6 months clothes that my mother-in-law was able to send down to us! Please choose 6 months and up if you are planning to send clothing for our little man.


If you would like to bless Tobias with new, used or handmade clothes and toys… please contact me at marillynbeard@gmail.com and I will let you know where to send them!


Thank you for all your prayers and support!