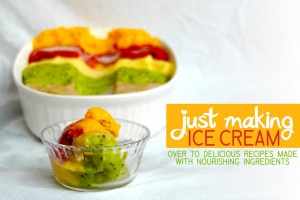 Yep! Very soon I will be releasing my first ebook, Just Making Ice Cream: Over 70 Delicious Recipes Made With Nourishing Ingredients!


Over the last couple weeks, every spare moment I had went to finishing up my ice cream book. My mom has been helping with editing and I've been working with my "ice cream testers" via email with GREAT feedback (thanks gals!).


Honestly, I am so ready to get this done. I've been so busy with getting ready for our furlough to the states, finishing up with the ebook and taking care of my family that I am in serious need of some R & R.


Why An Ice Cream eBook?
Because I LOVE ice cream! When using the right ingredients, it is so nourishing and delicious. I would have no problem with my family eating ice cream everyday using my recipes. This is a fantastic way to enjoy raw milk, egg yolks and your choice of sweetener.


I actually started playing around with the idea of writing this book almost 2 years ago! I never really committed to do it until just a few months ago. Why? Time. I wanted to make sure I had the time to really do it. I've heard from friends that making a cookbook or ebook is time consuming. Thankfully, the Lord worked it out over this past few months by bringing a special friend from Mexico to work with us and help me with the kids. She has been a huge blessing, help and encouragement. Thanks Gaby!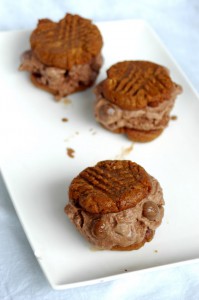 Chocolate Nutbutter Cookie Dough Ice Cream
I know I am a little late with getting this ebook out, but who says you can only have ice cream during the summer?! In my family, ice cream is a year-round treat. In Just Making Ice Cream, you will find recipes for all occasions! You will also find information on ingredients, different types of ice cream machines, top 4 popular makers, no-maker methods and more.
Stay tuned! I will try to share a little more later!