Well, we are in Bloomingdale, IL! The past week we visit friends, family and churches to share about our past year in Costa Rica. It has been a great trip so far. Both girls were great on the plane from Costa Rica to Chicago and the long drive from Chicago to DSM. We did more driving through Iowa to Wisconsin and now we are back to Chicago to hang with my in-laws for the rest of the week.

I miss my kitchen and posting my recipes! BUT the time that I had with my family this past week has been a breath of fresh air… wonderful!
So, now I want to take some time to post this wonderful creamy sorbet that I made before our trip to the states. I ran out of time to post this before we left and I wanted to post this for my Sweet Wholesome Wednesday, but that didn't work out… oh well… Then I wanted to enter this in the Clean Your Plate Recipe Challenge at The Nourished Kitchen, but I was too late…again, OH WELL!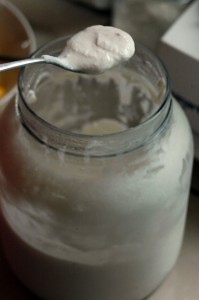 Coconut Kefir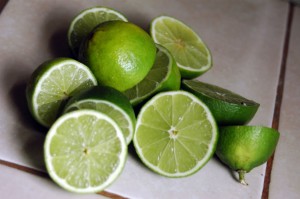 Are these limes just beautiful?!
So let me start in the beginning. We have a tree that is producing beautiful organic limes in our backyard, but we are reaping more than we can use! I've been trying to up with different recipes to use all those limes.
One night, everybody was begging for some ice cream (including myself!). I didn't have any fresh milk, but had lots of coconut kefir and limes…sorbet! So I whipped everything together and poured it into our ice cream maker… it was done in less than an hour.
The first taste was tangy, tart, sweet and refreshing. The coconut kefir made it tangy (and SO creamy!), the limes made it tart, the honey made it sweet and putting it all together made it so refreshing! Awesome combination!
If you don't have coconut kefir… no worries! Just use regular coconut milk. This sorbet is a great dessert/snack for cooling off on a hot afternoon. I just love the green specks of lime zest swirled into the creamy coconut ice cream… looks simply delicious!

It is totally diary-free (that is what a sorbet is!). It can be made vegan by using a different sweetener and taking out the egg yolk. It is also totally RAW. I am wanting to make more raw dishes and my sister gave me an awesome raw cookbook… that's another post for later! Now, enjoy my photos and recipe!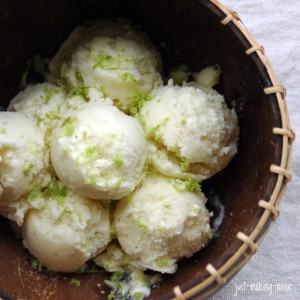 Coconut Lime Sorbet

Grated rind of 2 large limes

Juice of 2 large limes

1 egg yolk

3 cups coconut kefir or milk

1/2-1 cup raw honey


Grate and juice the limes. Mix it with egg yolk, kefir/milk and honey (I used 1/2 cup) in blender for a minute. Pour into ice cream maker and follow maker's instruction. When done…scoop it out and enjoy! Store leftovers in a plastic bowl and keep in freezer (won't last more than a day…too yummy!).

Don't have a ice cream maker? No problem! Pour mixture into a plastic bowl and put into freezer till frozen. Put it out till slightly soft, chopped it up and put it back into your blender. Blend till creamy (not too long or will melt!)