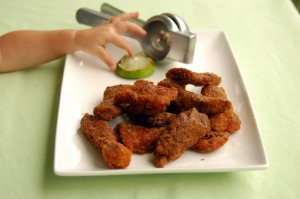 Whew! I hope everybody had a wonderful Christmas! Are you all looking forward to the New Year?! I can't believe how fast time flies.
We are getting ready to head off to California tomorrow morning EARLY and have a long day, but prayerfully the flights and everything will go smoothly. We will be in the LA area for several days and I hope to go to the Santa Monica Farmer's Market with Ann Marie (aka CHEESESLAVE)… I'm so excited! Then we are heading to Murrieta to a Missions Conference. We are really looking to that and excited about our move to Honduras.
Now I thought I could share with you a delicious recipe that I've been saving…


I loved fish sticks growing up… I hated fish, but LOVED fish sticks. Yes, the kind that you find in the frozen section, line up on your cookie sheet and pop in the oven for about 20 minutes. I used to put a TON of ketchup on my plate and scooped huge amounts into my mouth along with a yummy bite of the fish stick. My parents would ask me… "would you like fish sticks with your ketchup?" LOL! Glad to say those days were over once I got into the high school swim team, but now I can bring those days back with a healthier, homemade version…


I was inspired by Elana to make these fish sticks, but wanted to spice them up a bit and I've used coconut flour or rice flour instead of almond flour. Making these fish sticks was a breeze and when I took my first bite fresh off the cast-iron pan… I was swept away by memories of my past love with fish sticks, but these fresh homemade fish sticks were so much better!
Fresh fish, fresh spices and good quality oil… how much better can it get?!
I spiced up the flour with Achiote (known as annatto in english) which gave the fish sticks a nice golden tone and mild flavor. It is mainly a natural food coloring that is used heavily in Latin American and Caribbean cooking. Achiote is not an herb, but the seed of a fruit native to tropical America (bixa orellana). It grows on a little pretty tree, sometimes called the Lipstick tree because it bears vibrant pink flowers.
Achiote has been used since pre-Columbian times and the indians used it to decorate their bodies, clothing and utensils. Central American cooks are never without achiote in their homes like we are never without salt & pepper! Not only does achiote give color, but it mildly flavors… possessing an earthy aroma which hints of paprika. I was also surprised to find out how useful and good this stuff is for us! Known as the "Ancient Aztec Antioxidant" by this article:



The mysterious red seed in the spiny, hedgehog-looking pod certainly seems strange looking and maybe even downright dangerous, but it's actually quite a traditional part of both Mexican cuisine and Caribbean folklore and herbal medicine.

Achiote

, otherwise known by its Aztec name of achiotl, comes from the Annatto tree (

Bixa orellana

), and is known for the brilliant saffron color its seeds exhibit after the pods split open to reveal their tiny inhabitants. Indeed, achiote is often used to dye foods like rice, and sometimes used as a substitute when saffron itself is too expensive. It's also a very common natural source of food dye in the USA, where it is more commonly known as annatto. But did you know that achiote has a powerful legacy of

healing

and antioxidant effects?

Traditionally, the

achiote seed

has been involved in everything from decorative painting to food-preparation to ritualistic evil-banishing ceremonies. Most of the time the achiote seed has been incorporated because of its highly pigmented red color – no wonder the mother plant is sometimes called the "lipstick tree"! This concentrated red hue can be extracted by boiling the seeds that emerge from inside the seedpod when it bursts open. The intense vermilion hue comes from the high concentration of bixin that the annatto seed contains. The little known fact is, though, that

bixin is also an effective antioxidant

– in

studies done on small mammals

, it has proven to heighten "cell-mediated and humoral immune response". Bixin is similar to beta carotene, but bixin is generally seen as the more stable of the two compounds.

The leaves of the achiote plant are also powerful; applied directly, they have anti-inflammatory effects and so they're often incorporated into injury treatment as well as prescribed for fever and disorders of the digestive system that involve disrupted blood flow. Some say achiote has mild laxative properties as well. The consensus about achiote is that it is effective in drawing out toxins; for this reason, it's also been traditionally used to treat snakebite.

Most of us don't have an

achiote tree

in our backyards. The species itself is tropical, finding its home in the Amazon rainforest and in surrounding areas. However, it's still possible to obtain achiote in many forms – many groceries that cater to Latin American foods carry this fantastic herb which can easily be used to add both spectacular color and antioxidant benefits to whatever dish you're cooking! Next time you're in the market, have a look – incorporating achiote into your diet can be a fantastic idea. The ancient Aztec civilization was on to something when they brought this little seed into their daily rituals.
I should be using this stuff more often! You can buy achiote in seed, paste or powder form in your local Latin American market. It's also a cheap alternative to saffron!
Anyway, these were a BIG hit with my family and made great leftovers. Simply pop them into the toaster oven to warm it up all crispy again. My girls couldn't get enough of them… Naomi ate till she was stuffed, but the next day she asked for them when snack time came around and I was happy to give them to her!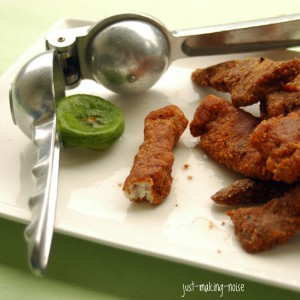 Spiced Fish Sticks (Gluten-free)




1 pound white fish (such as Tilapia or Mahi Mahi)

2 eggs, whisked

1 cup brown rice flour

1 Tbsp achiote powder

1 Tbsp oregano

1/2 tsp cayenne powder

1 tsp freshly ground black pepper

1 tsp sea salt

1/3 cup coconut oil, palm shortening or olive oil


Rinse fish fillets in cold water and set on a plate. Cut fish into short strips, following the lines of the fillets and removing bones (if there's any).




Place eggs in a small shallow bowl. Mix together flour, spices, black pepper & sea salt in another small shallow bowl.


Dip fish sticks in eggs and then toss it in the flour mixture. Set them aside on a plate.




Warm up 4 tablespoons of palm shortening or your choice of oil in a large skillet and heat oil on medium high. Place the fish sticks in the pan and make sure there's enough room around them so that they don't stick together. Cook for a few minutes on each side, until well browned, then remove fish sticks to a plate lined with a paper towels.




Add more shortening or oil (4 Tbsp) to the pan and fry remaining batch of fish sticks.


Serve with freshly squeezed lime and tatar sauce or homemade ketchup.