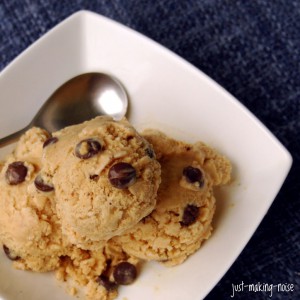 Hello… anybody out there??
Wow, it has been too long since my last post… and that was from last year! Happy (belated) New Year everyone! I have SO much to share with all of you… I don't know how I will be able to share everything that I want to share with you all, but I will try. Right now we are staying with some friends near Seattle and enjoying some R & R.
For now, I want to share a really YUMMY ice cream recipe that I've been saving for a long time now. If you love cookie dough ice cream (like me)… then you will LOVE this ice cream. I made a custard-like base using raw whole milk and soaked the oats in it which produced a rich, creamy & chewy texture. I used my 'Soaked & Ready' Oats, but you can use regular rolled oats… just remember that oats are very high in phytic acid which prevents absorbtion of important minerals and harder to digest.
I still want to make a chunky cookie dough ice cream someday, but this was a good start. I had to hide the ice cream from my hubby to make it last more than one night… yeah, it was that good!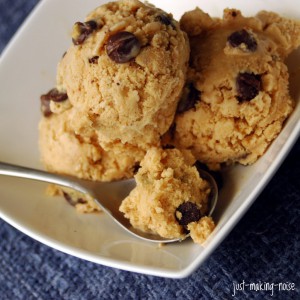 Oatmeal Chocolate Chip Ice Cream

2 cup raw whole milk

1/3 – 1/2 cup

coconut sugar

or rapadura

1/2 tsp sea salt, generous

3/4 cup

Soaked & Ready Oats

(or you can use regular rolled oats)

1/3 tsp ground cinnamon

Pour milk, sugar and sea salt into a medium saucepan and set over LOW heat. Stir till sugar dissolves and when the mixture becomes very warm to touch add the oats and cinnamon. Simmer for about 8-10 minutes (don't let it boil!), stirring constantly, until the oats has thicken with a creamy texture but still chewy.
To test for creaminess… Stir the mixture, pull out the spoon and the mixture should coat the spoon while slowly dripping off. Set aside.

3 egg yolks

1/4 cup coconut sugar or rapadura

1 1/2 cup cream or whole milk

3/4 cup dark chocolate chips (optional)

In a large mixing bowl, whisk egg yolks with the sugar until throughly combined.

Add a little bit of oatmeal mixture into the egg mixture and whisk. Slowly continue to add more while whisking until completely blended. Whisk in the cream or milk. Taste for additional salt. Let it cool completely and refrigerate overnight in an airtight container.

Stir the mixture and churn in your ice cream machine. When ice cream is almost done add in chocolate chips. Scoop into an airtight container, cover and place in your freezer to firm up.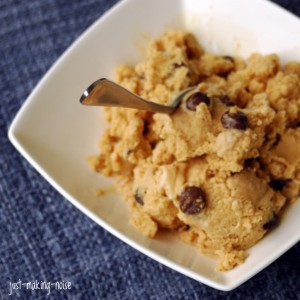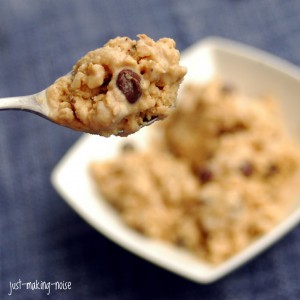 This post is part of Real Food Wednesday @ Kelly The Kitchen Kop