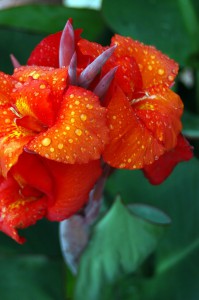 Vivid red petals with golden drops of rain… the flower was made for me to enjoy its glory and beauty. To remind me that there is a Creator.


It didn't just happen… there was a plan and purpose for that flower. Just like there is a plan and purpose for you and me. It was planned for this flower to take root, grow and show off its vivid red glory for me to enjoy… for anybody who wants to take the time to enjoy its beauty.


The beauty that God surrounds us with is breath-taking.


Have you taken the time to stop, look around and admire the creation?


It was created for you and me… for our pleasure!


I can't tell you how many times I go through my days without taking a peep at the beauty outside my house.


I get busy and caught up on laundry, cooking and family… We all do.


What a difference it makes when I purposely take the time to stop, look and enjoy.


When I do that… I can feel the tension around my eyes fade away. My mind clears up. My lungs take in a deep refreshing breathe of air. My heart sings. My body feels restored.


I feel recharged and ready to finish the day with a song of praise in my heart… bursting out from my lips. I often noticed that my kids like hearing me sing, it relaxes them and it relaxes me.


Remember, enjoy what's around you… embrace the life you have… it will be gone in a moment.