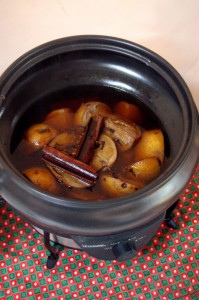 I LOVE Christmas Potpourri.


It makes the house smell festive and delicious!


Since I was a little girl… every year my Mommo would throw together a pot of water or apple juice, fresh oranges, apples, cinnamon sticks, cloves, nutmeg and let it simmer 24/7. She would keep refilling the pot with water or apple juice and change out the fruits about once a week when they would get so mushy.


The house would smell simply HEAVENLY from Thanksgiving till just past New Year!


With all the oranges that we've been picking off our trees and cutting them up for different things… all the smells from the oranges brought back to memory of that delicious potpourri that my mama used to make every year.


It got me thinking, "Why haven't I done that in my home?"


Well, I couldn't use my gas stove for 2 reasons… 1) I need all the burners for all the home cooking I do daily and 2) the gas burns too hot, that I couldn't leave it with fear that it would burn up to smoke (ugh).


Then I thought, "What about my crockpot? Perfect!"


So, I've been "simmering" my homemade Christmas Potpourri on high throughout the day without the lid on. I just LOVE coming into my house after working outside and taking a deep breath of delicious cinnamon-y orange fragrance.


Here's my simple recipe:
Oranges, sliced

Cinnamon sticks

Whole Cloves

Nutmeg (I used the old chunks after grating them)

Water
Throw everything in your crockpot. Cover with water and set it on high. Add in water as the level drops below the oranges. Change out the fruit about once a week.
Also, you can add in sliced apples… I didn't because I didn't have any and they are kinda pricey here. Not worth it to me.
I've also seen people put in bay leaves… hmmm. Maybe I'll try that.
NOTE: A small crockpot would be ideal, but if you don't have one… you can always shop on craigslist or garage sales!


I think I might play around with the recipe and try adding pineapple! Going for the tropical Christmas smells ;o)


Tell me, what kind of potpourri do you like? What would you add in?