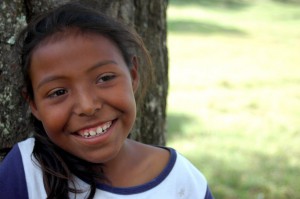 It isn't easy to catch a beautiful smile like that with these kids.


Most are so solemn… life is hard for many of them.


But when they come here to RO4Y, they are able to forget for a while and just be kids… silly, goofy and laughing. There is so much peace here and they can feel it!


I know a real smile when I see one… it lights up their eyes.


Like Diana, up there.


She has a hard life… Dad is alcoholic and can't keep a job. Both Mom and Dad can't read. They live very simply on beans, rice and corn tortillas.


Thankfully, Diana has chosen to learn to read and write. She has chosen to come to RO4Y. It seems that she wants to choose a better life and learn more about Jesus.


Help us help her.


We want to help with her spiritual needs and physical needs. We want to do that for every kid that comes here as much as possible!


For Christmas, we are planning to put together food baskets and give them out has gifts to the families of the kids we work with. For $25 we can give a family a basket of wholesome food that will last them anywhere from 2 days to a week… depending on how many people are in the family.


Would you like to help us?