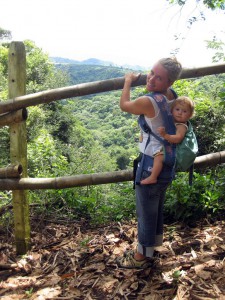 I want to take the time today to express my gratitude to all my noisy readers, followers & fellow bloggers. I've been receiving emails from many of you sharing with me how much the blog is encouraging, edifying and educating (the Triple E!) you all, but best of all… that my blog is pointing to Him, our Lord Jesus Christ.
Now, I know most of you will say you aren't "religious" or might have different beliefs, but let me tell you this… I'm not "religious" either. My faith in Jesus is a relationship… simple as that. He fills the void in my life… the "God-shape hole" that I believe we all were born with. Here's a song from an old favorite group, Plumb, that gives a pretty good picture of what I mean:
Every point of view has another angle

And every angle has its merit

But it all comes down to faith

You can say that love is not divine and

You can say that life is not eternal

There's a God-shaped hole in all of us

And the restless soul is searching

There's a God-shaped hole in all of us

And it's a void only he can fill

Does the world seem gray with empty longing

Wearing every shade of cynical

And do you ever feel that

There is something missing?
Now, If some of you haven't heard… I won the Foodie Fights, Battle 13! Thank you for all your votes, support and encouragement! I had so much fun and my whole family did great with helping me. I am so grateful and blown away by the judges' comments and observations (Thanks guys!). It is so encouraging to know that I am on the right track… of course, I will keep on learning as I go along and probably will never stop learning till the day I die :o)
I will be judging next week's battle and that will be a great learning experience for me. Can't wait to see what the chosen bloggers come up with!! Also, I really encourage all of you to apply for the Foodie Fights each week. I just loved how it is a great challenge to make up unique dishes and have fun… the two ingredients for next week's battle are very unusual and I am VERY interested in seeing what the foodies whip up for us.
Again, thank you everybody and have a wonderful weekend!