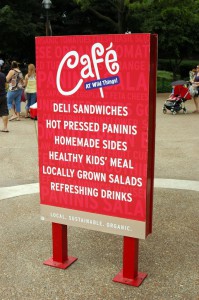 I am really sorry to say that this post is LONG overdue, but better now than never! I've been putting this off since we got back from the states in July… why? A number of reasons: I was waiting for Jon to type up the notes (he took notes while I talked to the chef and managers), then I thought I lost the pictures and then I got sidetracked. Anyway, doesn't matter now! I am very excited to share with you about this wonderful café at the Lincoln Park Zoo.
Now, let me start from the beginning…
While we were getting ready to head to the states and making plans, my in-laws mentioned that they wanted to take Naomi to the zoo. We thought it was a great idea and figured Naomi was old enough to really enjoy it without getting too overwhelmed. It wasn't till the day before we planned to head to the zoo that I suddenly realized I needed to prepare food to take with us.
I don't know about you, but when we go to places like the zoo I always assume there's only the standard fast, processed, sugary & greasy food available… so, we bring our own food. Why would we want to eat food that we know will make us sick and miserable for the rest of the time? I want to be able to enjoy myself and be full of energy… not irritable and feeling half dead. When you have kids who are full of life, energy and storing in memories… you want to make it as memorable as possible for them and yourself, right?
Anyway, back to the zoo… I was trying to figure out what I could prepare to take with as we didn't have much in the fridge, but my extremely thoughtful hubby was one step ahead of me. He went to the zoo's website and looked up their restaurant listings to see if there was anything decent. What he found was more than decent… it was organically, sustainably perfect!!
With no further delay I present to you… Café at Wild Things!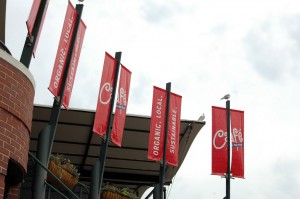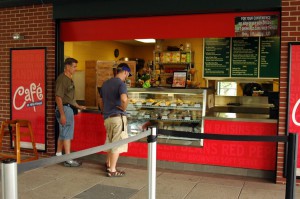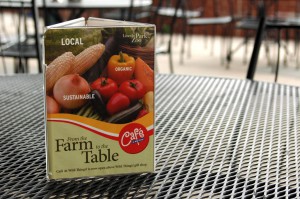 I was very excited to check out this Café and enjoy a clean, nourishing & delicious feast… and that's exactly what we got! We were all feeling very content and ready to tackle the zoo when we finished licking up our plates & parchment papers. Over all, I was very pleased with the freshness of the food and presentation of everything. I was even MORE pleased to be able to ask questions and chat with the chef & two leading managers of the Café. After chatting with them… I firmly believe that they were very committed to bringing the best organic, local food to the table. I loudly applaud your efforts Matthew (Chef), Alicia (1st manager) & Samantha (2nd manager)!! Thank you so much for giving me some of your time and your efforts with the café!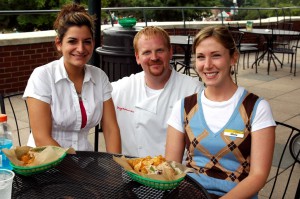 Samantha, Matthew & Alicia




While chatting with them I learned that the zoo and Levy Co. first opened the Café last year (2008) with a very simple menu, but not everything was organic. Better to start with what you got and go from there, right? But it became too complicated. They were often asked to explain what on the menu was organic and not organic. Example: sandwiches made with organic veggies, but the bread and meat weren't organic OR salads made with some organic veggies, but no organic dressings OR the only thing organic in the wrap is the tomato. I can see how that can be complicated and a little frustrating! For most people… it should be 100% organic or forget it. They also struggled with keeping a constant supply of organic where they needed it. So, after many struggles and getting some not so great press reviews, they decided to switch gears in 2009 and launch a new menu serving 100% organic food from local & sustainable sources. Talk about a totally perfect set up in the zoo where they repeatedly urged people to do their part to take care of the earth, recycle & care for the animals' environments .

I asked the managers what kind of reactions they have received from people since the Café opened. Both shared that many customers are very happy with what they now offer, because they had a lot of backlash last year (2008) for not being totally clear about what organic meals they offered. They still get their share of complaints… two complaints that are particularly common are the prices and people wanting the old menu (hot dogs, hamburgers, etc…). I personally thought the prices were pretty fair for what they offered there and if people want the "old menu"… they can go to the other restaurants that I saw around the zoo that all offered the same "classic menu", but they will be missing out on really good stuff!

Now the food… gotta talk about the food. They had everything! Salads, sandwiches, wraps, chips, fresh fruits, baked goods, ice cream and they even had organic sugar cones! They also had a great selection of bottled teas, juice, fair-trade coffee & Lifeway kefir… and get this… they had a sign at the top of their store front that read, " For your convenience we now offer non-organic soft drinks at Café Wild Things" (look at picture above). This gave me a good laugh, but also made me think how unfortunate that people will choose convenience over common sense. They also provided Wholesome Sweeteners sugar packets for their coffee and condiments from Annie's Naturals, Seeds of Change & The Wizard's for your meals.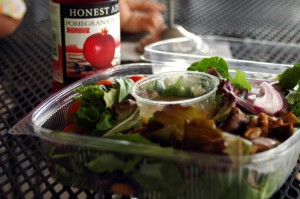 Mediterranean Salad
Baby greens, japanese eggplant, feta cheese, grape tomatoes, spanish onion, kalamata olives, almonds and lemon dressing.
My rating: Refreshingly Good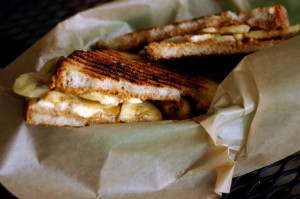 Go Bananas Pressed Sandwich
Ripe bananas, honey and peanut butter
Naomi's rating: Speechless (she wouldn't stop eating)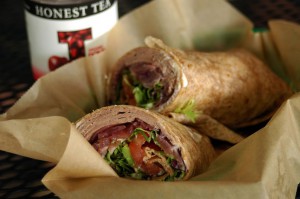 (this is what Jon & my in-laws had)
Beef & Blue Cheese Wrap
Roasted beef with caramelized sweet onion, baby greens, tomatoes and blue cheese mayonnaise
Jon & in-laws' rating: Delicious
Of course, we all tried each other's food and we loved it all. I especially liked Jon's wrap because I was very surprised that the blue cheese mayonnaise was very mild and tasty. I hate blue cheese… so that's a compliment coming from me. Naomi also tried our food and asked for more of Jon's wrap. Tabi missed out on all the fun because we decided to hold off on food till she was a year, but she did get most of it through my milk :o)
Now, I know most of you are probably wondering how generous the portions were and if it justified the cost of the meal. The sandwiches, wraps & salads ranged around $5-$8 while the sides, sweets & beverages ranged around $2-$5. We talked about that and were very pleased with how filling everything was. My in-laws shared their wrap along with some chips and said it was perfect for them. Jon shared some of his wrap with me, but ate it all while I cleaned up my salad. Naomi ate about 3/4 of her sandwich (and that's a lot for her!) plus grazed on our food too. Would we go back again? Oh yes!
When I asked how much of their food is local, I was very impressed with their sources. After my hubby looked them up on the internet and found their websites… I was even more impressed with the suppliers and what they offered. I REALLY want to visit the Red Hen Bread… to walk in there and be overwhelmed by the smells of fresh bread baking (oh yummm!). Oh! I absolutely MUST visit the Bleeding Heart Bakery (of course!) the next time we are in Chicago. Gotta let my sweet tooth run wild once in a while [wink] and their pictures on flickr are AMAZING! Who wants to go with me?!
The list of their sources:

This place not only serves tasty organic dishes, but they also proudly use sustainable earth-friendly plates, containers, napkins, silverware & cleaning products. That's what I meant when I said this place was sustainably perfect! Their plastics are completely compostable and all their paper products are made from recycled sources and are non-bleached.

After the feast we explored the zoo and actually had a great time. I am happy to say that Naomi enjoyed herself very much and her favorites were the polar bear & otter swimming in the water (she loves anything that's in the water!!). We didn't get to see the seals, but we saw lots of other animals that live in and around the water.




Over all, we had a great time and might someday go back again when Tabi is a little bit older and Naomi can be the big sister to educate her baby sis on the names of the animals :o)