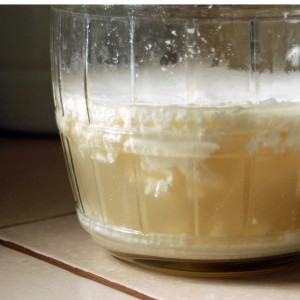 Whey is an excellent starter culture for lacto-fermented veggies and fruits, for soaking grains and as a starter for beverages. The cream cheese, a by-product, is much healthier than the commercial variety, which is produced by putting milk under high pressure and not by the natural beneficial action of lactic-acid-producing bacteria.



sound bite:

Whey is such a good helper in your kitchen. It has a lot of minerals. One tablespoon of whey in a little water will help digestion. It is a remedy that will keep your muscles young. It will keep your joints movable and ligaments elastic. When age wants to bend your back, take whey… With stomach ailments, take one tablespoon whey three times daily, this will feed the stomach glands and they will work well again. -Hanna Kroeger / Ageless Remedies from Mother's Kitchen




Homemade cultured whey can be made from various types of cultured milk, good quality yoghurt or even fresh raw milk. I usually make whey and cream cheese when the milk is starting to turn. It will sour and separate naturally when left at room temperature for several days. Cream cheese and cottage cheese are traditionally made by letting the fermentation process continue for several days until the white curds or casein-containing portion of the milk separates from the whey.





sound bite:

When this cream cheese is weighted down or inoculated with further cultures, it undergoes as additional fermentation process resulting in many different types of cheese. Modern cheese makers consider whey a waste product, but in earlier times it was used to produce a variety of other fermented foods and beverages. -Nourishing Traditions




I love making the cream cheese as it is
a great snack for my family and a good addition to many recipes. Our favorite snack with this is Homemade Whole Grain Crackers topped with cream cheese and dried cranberries. We also like to throw in salmon, cream cheese, garlic and lots of spices in the food processor and make a creamy spread for sandwiches or crackers. The whey is a great bonus as I use it a lot for making my kraut and soaking my grains.
The first time I made it I left it out too long and it had a strong blue cheese flavor (which I don't like, but my hubby and mom loved it). So the second time around I was more careful about the time and was much happier with the taste. Below is a recipe from Nourishing Traditions. Very easy and straight-forward.
Homemade Whey & Cream Cheese

Makes about 5 cups whey and 2 cups cream cheese

2 quarts piima milk, whole-milk buttermilk, yoghurt or raw milk


If you are using piima milk or whole-milk buttermilk, let it stand at room temperature 1-2 days until the milk visibly separates into white curds and yellowish whey. If you are using yoghurt, no advance preparation is required. You may use homemade yoghurt or good quality commercial plain yoghurt. If you are using raw milk, place the milk in a clean glass container and allow it to stand (covered with a lid) at room temperature 1-4 days until it seperates.

Line a large strainer over a bowl with a clean cotton dish towel. Pour in the yoghurt or separated milk, cover and let stand at room temperature for several hours (longer for yoghurt). The whey will run into the bowl and the milk solids will stay in the strainer. *Tie up the towel with the milk solids inside, being careful not to squeeze. Tie this little sack to a wooden spoon placed across the top of a container so that more whey can drip out. When the bag stops dripping, the cheese is ready. Store whey in a mason jar and cream cheese in a covered glass container. Refrigerated, the cream cheese keeps for about 1 month and the whey for about 6 months.

*NOTE: I found that I did not need to do this, but you might need to. Just simply pull up the towel like a bag and see if any more whey drips out.