Spring is totally in the air around here! Today was warm, fresh and beautiful with green grass shooting up everywhere and trees showing off their beautiful flowers. Ahhh… who doesn't love spring?!
Wait… you must all be wondering what I am talking about because we don't have spring in Honduras… sorry! I am actually in the states with my in-laws right now! We are here for a few weeks for my brother-in-law's wedding and visiting a couple churches. We are so glad to be here!
Anyway, spring is a beautiful season of new life, warmth and amazing colors that stretch up to the sky. It is a so fitting that Easter falls in the spring season… the resurrection of the earth after the long, cold winter is a beautiful sight and is a visual reminder of the resurrection of our Lord Jesus Christ! He overcame death and gave us a future & hope! Awesome!
Now, I want to share with you a simple & yummy-tummy recipe of Buckwheat Cakes… along with a surprised visit from a honey bee! This little guy came buzzing along and decided to check out the cakes & slurp up some honey while I was shooting pictures. I was actually really grateful that he came along because I wasn't too happy with how the pictures were coming out. Before he came along, the pictures looked flat and boring. I just love how the pictures came alive with character and life with him hanging out there and being a bee! LOL!!
Okay, okay… I'll stop talking about him.
The cakes are amazily simple to make and so good. I love the smooth earthy flavors and rich texture. If you are not a big fan of plain buckwheat, you can go half and half with whole wheat or spelt to tone down the buckwheat flavor a bit. I also like that this recipe is gluten-free and buckwheat is actually a seed, not a grain. Its phytic acid is much lower than the grains… making it much easier to digest and does not require a long soak. I acutally prefer to soak it close to 24 hours because we really enjoy the nice tangy kick… great with ripe fruits on top. Here I topped it with raw mango butter, butter and raw honey. I bet blueberries would be fantastic too!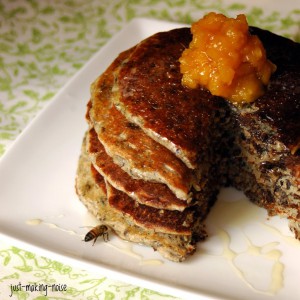 Honey Bee Buckwheat Cakes
2 cups 100% buckwheat flour (or 1 cup buckwheat & 1 cup whole wheat or spelt)

2 cups buttermilk, kefir, yogurt or water w/ 2 Tbsp lemon juice or raw vinegar

2 eggs

2 Tbsp raw honey

1/2 tsp sea salt

1 tsp baking soda

2 Tbsp melted butter or coconut oil

Soak flour with liquid in a warm place for 12 to 24 hours.


Lightly beat the eggs and pour into the soaked flour. Stir in the rest of the ingredients and thin the batter to desired consistency with water if needed.


Cook on a hot, oiled griddle or cast-iron skillet. These pancakes cook slower then unsoaked whole grain flour or white flour pancakes. When bubbly on top and golden brown at the bottom… flip over and cook for a few minutes till golden brown.

Top with mango butter or your choice of fruit, butter, raw honey and a honey bee (optional). Enjoy!!


Have a great week and don't forget to check out the giveaways and enter for a chance to win 2 ecousable bottles or an Action Baby Carrier!
Hugs,
Mare