It has been a while since I've shared any new lacto-fermented recipes, but I've got a delicious one for you today!


I came across this chilero mixture at the San Ramon Feria from the organic stand a few months ago and we were hooked on that stuff. Of course, they pickled the chilero with white vinegar, so Jon urged me to make some chilero and lacto-ferment it to see if it would come out just as good or better.


Amazingly, on the first try, the lacto-fermented chilero came out better than the chilero we bought from the feria. Why shouldn't it? Raw, living food shouts with pure goodness and makes our guts scream for more! LOL!


The spicy, sweet flavor was so addicting that we ate up the chilero in one meal! Yeah, it was that good! We were having baked potatoes and the chilero was the "cherry on top"… everybody loved it… even my girls were begging for more! I had to literally take the jar away to save what little was left so I could show you guys… which explains the pictures. LOL!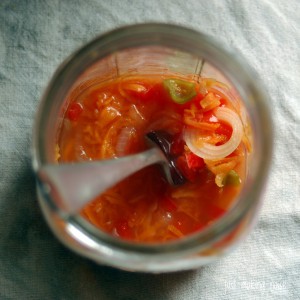 3 cups grated carrots

1 meduim yellow onion, thinly sliced

1 sweet red pepper, finely chopped

1-2 cayenne or jalapeño peppers, finely chopped

2 garlic cloves, minced

1 tbsp sea salt

4 tbsp

whey

(don't have it? add 1 tbsp sea salt)

filtered water

Combine carrots, onion, peppers, garlic and scoop into a quart jar. Gently push down.



Mix together sea salt and whey. Pour into the jar.



Add enough water to cover the veggies. Make sure there's at least one inch between the veggies and the top of the jar.



Cover tightly with either an airlock or regular sealed lid.



Keep at room temperature and out of light for 3 days before opening.



Store it in a cool place and out of light (pantry, basement or fridge).
Like all ferments… the longer you leave it, the better the flavors will become. If you are a little scared to start fermenting your food… read How You Can Benefit From Lacto-Fermented Foods! This Chilero is super EASY and a great start on your road to exploring lacto-fermenting. Enjoy and have a great day!
Mare


UPDATE: I know I missed the Lacto-fermented Blog carnival by Sustainable Eats, but I figure it would be better late then never. I'll be entering all my LF recipes along with the one. Check out all the recipes that other bloggers have posted! There are some great stuff there.