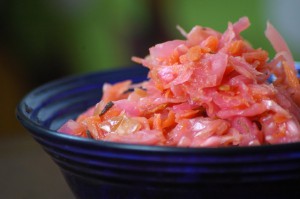 UPDATE: I bought the Picklemeister and LOVE it! Plus, I discovered a "no-pound" method that cuts the time in half when prepping the veggies for lacto-fermenting. Read after you've read the post.
I really love my lacto-fermented foods… The smell is spicy and warm, the colors are vibrant, the taste is robust and full of life.
I have it with my salads, eggs, sandwiches and just about anything that needs it. I eat it everyday! Maybe you've heard how beneficial
lacto-fermented foods
are for you and your family… Delicious, unheated, raw and organic… cultured vegetables are one of the richest whole-food sources of healthful lactobacilli (probiotics), enzymes and vitamins. All around it is an excellent, tasty addiction to your daily diet.
What is Lacto-Fermentation?
Lacto-fermentation
is a natural food preservation method that enhances the life in the vegetables and the eate
r. It
happens when the starches and sugars in vegetables and fruit convert to lactic acid by a friendly lactic-acid producing bacteria. This not only produces a delicious, tangy product… it also preserves it and more.
The proliferation of lactobacilli in fermented vegetables enhances your digestibility and increases vitamin levels. These beneficial organisms produce numerous helpful enzymes as well as antibiotic and anti carcinogenic substances. Their main by-product, lactic acid, not only keeps vegetables and fruit in a state of perfect preservation but also promotes the growth of healthy flora throughout the intestine. (Sally Fallon, Nourishing Traditions)
When I learned about all the fantastic benefits of eating lacto-fermented foods… my brain was spinning, but I was hooked. I discovered that fresh, homemade sauerkraut tastes so much better than canned, pasteurized
sauerkraut (I hated canned sauerkraut and often they have MSG).
Studies repeatedly have shown that daily consumption of lacto-fermented vegetables helps in reestablishment and maintenance of beneficial intestinal flora, increases the strength of your immune function and digestive system
(70% of your immune system is located in your digestive system!)
. These raw fermented vegetables relieve constipation and are associated with decreased allergies and infections. Fermented cabbage is an excellent source of a protective factor called DIM, which is lost by standard cooking methods.
Lacto-fermentation has wonderful healing powers not only for humans but also for animals. In the recent years scientist have found that
birds
fed sauerkraut and kimchi often recovered from Avian Bird Flu!
Scientist and doctors today are mystified by the proliferation of new viruses—not only the deadly AIDS virus but the whole gamut of human viruses that seem to be associated with everything from chronic fatigue to cancer and arthritis. They are equally mystified by recent increases in the incidence of intestinal parasites and pathogenic yeasts, even among those whose sanitary practices are faultless. Could it be that in abandoning the ancient practice of lacto-fermentation and in our insistence on a diet in which everything has been pasteurized, we have compromised the health of our intestinal flora and made ourselves vulnerable to legions of pathogenic microorganisms? If so, the cure for these diseases will be found not in vaccinations, drugs or antibiotics but in a restored partnership with the many varieties of lactobacilli, our symbionts of the microscopic world." (Sally Fallon, Nourishing Traditions)
Today, we are constantly exposing our bodies with chlorine (not just in the water we drink but we also absorb it from our showers and baths) and antibiotics (in our milk, meat, and what we take ourselves). These are two of the worst culprits for destroying good bacteria that our body needs to thrive. Is it no wonder that we can all be so prone to digestive issues, diseases and sickness?
Many believe that healing and health happen in the gut and I believe there is a lot of truth in that. Making and eating lacto-fermented vegetables and cultured drinks is one large step towards health. In fact, many find that where commercial probiotic supplements fail, lacto-fermented foods overcome.
How To Make Lacto-Fermented Food
It is EASY to make your own cultured food. The basic recipe for sauerkraut is cabbage, salt and whey. Then you can add pretty much any kind of veggie or fruit to the basic recipe. The Nourishing Traditions book calls for 1 Tbsp of sea salt with 4 Tbsp of whey for a QUART, that's too much sea salt for my taste. I always make a LARGE batch, but I don't increase my salt or whey. So, I just keep it the same and it tastes great! My favorite right now is ginger broccoli sauerkraut, just a little ginger leaves a fantastic bold and spicy flavor. Yumm, I'm gonna go have a bite right now…
So, What is Whey?
Whey is the by-product from making cheese, cream cheese and yogurt. You can easily ask your local diary producer to save you some whey from making their cheese. OR you can buy plain yogurt (organic preferably) and let it sit on your counter (covered with a cloth or paper towel) till the whey (liquid on top) separates from the yogurt.
It is recommended to add a small amount of whey to each jar of vegetable or fruit to ensure consistently satisfactory results. Whey supplies lactobacilli and acts as an inoculate. Do not use commercial concentrated whey or dried whey. You can forget the whey and use more salt in the vegetable recipes, but whey is essential in the recipes calling for fruit. I prefer whey over extra salt because it brings out a delicious flavor and more consistent results. Some of you might not like the flavor that the whey leaves or can't tolerate dairy… so you will have to try both and see which you like best.
Here's a great post
"Comparison of Vegetable Fermentation Methods"
by The Nourishing Gourmet. I am doing the mason jar method with whey, but I am hoping to try out the
Picklemeister
(stroll down to the bottom). My good friend, Teresa, tried it and said that it gave even better results than the mason jar method. I also would like to experiment with the Kifer-Ferments… I've got the grains, why not?
Every couple weeks I make a large batch of cultured food and we go through it pretty quickly between the 5 of us. I've made Latin American Sauerkraut, Ginger Broccoli Sauerkraut (my own combination), Ginger Carrots, Mayonnaise, Sourdough Bread, Salsa, Pickles, Bean Paste, Pickled Garlic, Pickled Cayenne Peppers, Pickled Basil Tomato, Ketchup, Mustard and many others that I can't remember now.
I've also made cultured drinks: Kombucha, Beet Kvass and Grape Cooler with great results. We all LOVE Kombucha, especially when we add pureed fruits and fresh juice. If you want to be bold and try it, go to your nearest health food store and try
GT's Kombucha
. I guarantee you will be hooked AND it is a great alternative to soda. You can buy a culture to make your own kombucha on
Cultures for Health
for much less than buying GT's.
Here are great books to look at if you are interested in adding lacto-fermented food to your daily diet:


Nourishing Traditions: The Cookbook that Challenges Politically Correct Nutrition and the Diet Dictocrats