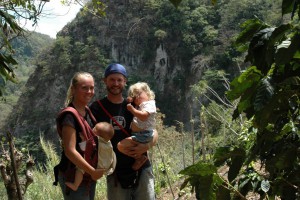 We've lived in Costa Rica for one year now.
We've learned and seen so much in one year.  I will do my best to write some observations and highlights of our first year in Costa Rica.
– we lived in 2 different climates

– there are many different types of bananas and mangoes
– we were blessed to do a homebirth for Tabi

– there are waaaay more ants here then in Iowa

– people don't take driver's ed here

– tropical rain is very different from what we are used to… it can pour for

  hours nonstop!
– we were able to get our residency application approved in less than a

  year!  

That's a miracle.



– the Costa Rican greeting and farewell is a kiss on the cheek

– in Mexico you say "Adios", in Costa Rica most say "Ciao"

– Playa Hermosa/Jaco is hosting the World Surfing Championship in

  August

– Naomi learned to swim in Playa Hermosa

– there is an Apple store in San Jose… a iPhone is over $500

– if you have blonde hair, you are called a "mancho" (male) or "mancha"

  (female)

– we visited La Paz Waterfalls and Volcano Poas with Jon's parents

– Jon and I learned to surf with some friends

– the way to say thank you is not "de nada"… its "mucho gusto"

– we celebrated 5 years of marriage last summer and will be coming up 6

  years on June 21st

– Costa Rican's "sweet potato" is called 'camote'

– Everybody gets PAID holidays… its the law here

– anything that's imported is twice (or more) as much as you would buy in

  the states

– we adopted a purebred mutt, Lina

– we can have a tan all year round  :o)

– Costa Rica is futball (soccer) crazy and Jon fits right in
– there are two seasons here… rainy season (June-Nov) and dry season

  (Dec-May)

– Tabi and Naomi share the same birthday week
– papaya tastes best during the dry season
– everybody drinks coffee, including little 2-3 year olds!

– we are still adjusting to the different cultural stuff

– "Pura Vida" can mean many things

– Christmas was strange without cold weather and snow, but we didn't

  miss the crazy Christmas advertising bombing you at every direction. 

– life is Costa Rica is crazy, beautiful, life-changing, slow, different, weird,

  stretching, simple and many other things

I'm sure there are many other things I need to put on the list, but I can't remember them all!  We've had many ups and downs throughout our first year of living in a foreign country, but God is always consistent and His promises never changes.  We also had plans, hopes and expectations that were taken away, changed or put on hold.  Life in Costa Rica was not anything like we thought it would be, no surprise there!
Still, through everything, God is the same yesterday, today and forever.
Life is very different here, but we really feel it is home in our hearts.  God has shown us so many times that we belong here.  Many of you have asked how long we are staying here… here's your answer:  

As long has God wants us here and for the rest of our lives if that's His desire for us.
As we start our second year, please PRAY for us.  Your prayers are our shield and strength against the spiritual warfare that goes on around us.  If we don't pray, how do we survive against the attack of the enemy?  We also need you to keep on praying for God's direction in our lives.  We still are looking for land for the ministry, but while we are waiting we desire to start ministering NOW.  Please pray that God will bring us a horse to start with and go from there.  We already have several opportunities to work with some children, teens and their families.
Also, pray that we don't give up or lose heart.  There are days where we wonder if anything will ever happen and sometimes even feel like we are doing nothing.  Please pray that we focus on what is before us now and be open to what God brings into our lives.
One day Jesus told his disciples a story to show that they should

always pray

and

never give up

.
Rejoice in our confident hope. Be patient in trouble, and keep on praying.  

Pray in the Spirit at all times and on every occasion. Stay alert and be persistent in your prayers for all believers everywhere.  

Devote yourselves to prayer with an alert mind and a thankful heart.  

Never stop praying.