Note: I don't know what happened, but this blog post disappeared sometime Friday and I had to retype half of the post… grr! Blogger better not eat up my posts again!
Anyway, so sorry that I've been missing in action since last week! Things have been really busy with our first horse rescue and adjusting to having our friend coming to live with us for the next 3 months. For all those who enter the Everything Beans giveaway… I will post the winner sometime this week… at least I will TRY! LOL!
Now, let's talk about salt…
Some of you might remember my trip over to the Caribbean coast in Costa Rica over a year ago. Remember how I mentioned that I wanted to make sea salt with the ocean water I bottled up from there?


Well, I did it!

Right before we moved to Honduras… knowing that it would be ridiculous packing several bottles of ocean water in a box, hauling them across two borders and then having it wait around for me to finally do it. By then, it probably would've gone bad… can ocean water go bad? LOL! I'm sorry it took so long to get this out of my "draft" folder and dust it off, but I'm sure you will see that it was worth the wait ;o)


I can't believe how easy it was to make it. In just four simple steps… you got crunchy sea salt right in your kitchen! Plus, it doesn't take a lot of time or work! I would love to do this again someday :o)


Making your own sea salt is SO fun too! My oldest girl, Naomi, decided to get dress up when I asked her if she wanted to help me with the sea salt project. She looked so blue-tiful in her blue dress, it made her blue eyes stand out! I can't believe how much she has grown since these pictures… She's still my blue-tiful little baby :o)


So, let's start making some sea salt… shall we?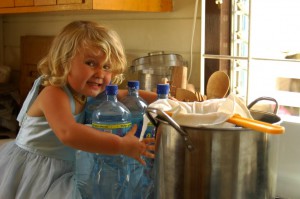 1. Find a source of CLEAN ocean water near you and full up some bottles or buckets.
Here we got several bottles of sea water that I collected while in Puerto Viejo last year. I had over 2 gallons of sea water total. Doesn't Naomi look great? LOL!
And she has a fun sense of humor… just like her daddy! Goof-ball!
2. Strain the ocean water.
Now, you need to strain the sea salt through a muslin cloth in a colander OR you can use several layers of cheese cloth. You want to make sure to remove all the sand and debris from the sea water before boiling it. The water I collected wasn't very sandy or dirty at all… I was very surprised, but pleased ;o)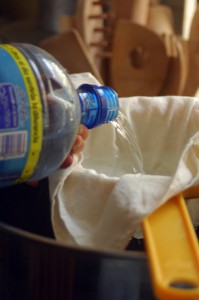 As you can see… Blue-tiful Naomi is very focus and doing an awesome job ;o)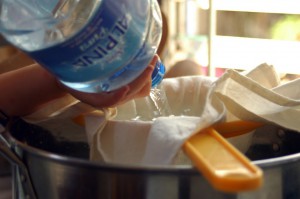 3. Boil the ocean water.
Bring the water to a boil and just let it boil away… evaporating all the water. It took a couple hours and make sure you stay close by! You don't want it to boil completely dry… it splatter everywhere. You will You don't want burnt sea salt, right?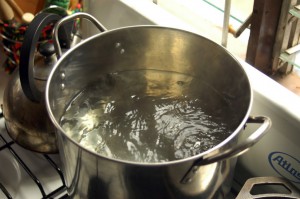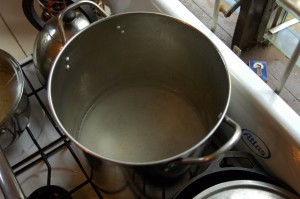 4. Sun-dry or dehydrate the sea salt.
Now you will have thick paste-like sea salt sitting in your pot. You will need to allow it to dry in a shallow pan or cookie sheet in the sun for a day or two if it is warm and dry out. Otherwise you can stick it in your dehydrator on parchment paper for about 24 hours on low heat.


Beware: If you have animals, make sure you put the salt where they can't get it. My dogs licked up about a third of it before I caught them! LOL!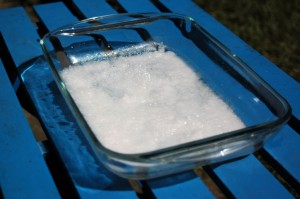 Here's Tabi helping us by "organizing" the bottles. Can't believe how much she has grown since this! Check out our recent family pictures to see my girls :o)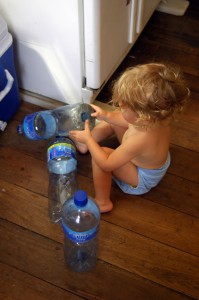 Ta-da! You now have sea salt! How easy is that?! Store in a glass jar with a loose lid. I after all that, I got about 1 1/2 cups of sea salt… I would've had maybe over 2 cups if the dogs hadn't licked it up!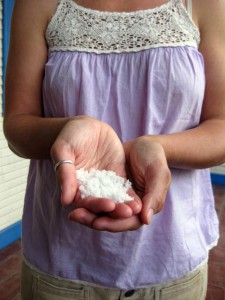 Remember, don't expect the sea salt to be completely dry… it is normal for it to keep a little moisture. That's what real salt is supposed to be! I still have my special jar of homemade sea salt sitting on my shelf… waiting for me to use it!
I'm sure you all are thinking… what does it taste like? texture? Well, it taste just like salt… only sweeter! Its nothing like the refined salt with its harsh taste. The texture is crunchy, almost flakey. I love it. I think it would be great to top it on cookies or something! Hopefully I will put my sea salt to work soon :o)
Here's some more fun salt pictures:
Please share with me your ideas for the sea salt. What would you do with it?
Blessings!