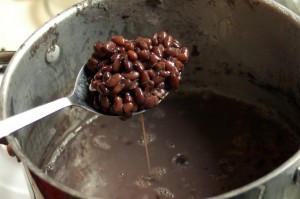 We eat beans and rice at least 4 times a week… sometime more! Why? Because it is cheap and filling. Beans are known as the "Poor Man's Meat" and very frugal source of plant protein. Everybody here in Central America eats beans everyday with at least 2 meals!
We now have a song that we sing whenever we find ourselves eating a lot of beans, taken from the "Rise & Shine… Give God the Glory" Sunday school song…
Beans & rice… give God the glory glory
Beans & rice… give God the glory glory
Beans… &… rice… and give God the glory glory
Children of the Looooord!
LOL!! Yep, we sing that quite often. It helps lighten things up when we find ourselves getting tired and whining about have beans… again! Don't get me wrong. We love beans, but sometimes we get tired of the same thing over and over… that's where the wonderful "The Everything Beans" ebook comes in! More about that in a little bit…
Now… Unfortuntely, I have not met a Costa Rican or Honduran or any Central American who soaks their beans in water. I do hope to help change that because we hosted a medical team back in February. They work at the local health center for a week and we asked them to let us know of basic things we can help educate the locals in regarding hygiene and food. They shared with us that a lot of women came complaining of gas, cramping and painful bloating around the stomach. They believe it has to do with all the beans they eat daily.
Why would they think we can help with that? Well, while they were here, I served up a couple bean dishes. At the first bean meal, while serving up the food, I noticed a lot of them didn't want very much of the beans and a few refused them. Why? Because they wanted to avoid the discomforts of eating beans… I know because I was that way too! So, I shared with them how I prepare my beans by soaking them with baking soda for 24 hours and washing them thoroughly before cooking. I promised them that they will not experience any (or experience very little) of the embarrassing & often painful side-effects… most of them were skeptical, but decided to give it a try and dug into their beans.
The next morning, many of them came up to me and begged me to share with them how to properly soak beans to guarantee an enjoyable mea
l. They were thrilled that they could now enjoy beans with no embarrassing gas or painful bloating & cramping. Many of them told me they've tried soaking their beans overnight or for 24 hours with no success and gave up on having frugal, yummy beans with their meals.
I know some people argue that you have to eat beans often enough to help your body "get used" to the beans, but that's not what I've seen and heard among the locals in Costa Rica and here. Several of our Costa Rican friends (most of them women) said that they had to stop eating beans because of painful cramps, gas and bloating… These are people who have grown up eating beans everyday!
I know I can testify the same thing… I tried just soaking over night, then soaking 24 hours, then adding an acid medium (whey, vinegar, etc..), then changing out the water a couple times during the soaking process and then sprouting the beans… NADA! NONE of those things helped and I was ready to throw the beans out of our diet completely… that's where baking soda came in to the rescue!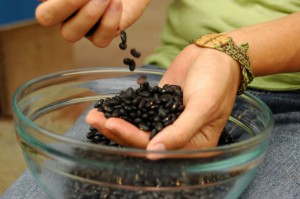 So, from what I've learned… it is said that baking soda softens the skins of the beans, which helps releases the phytic acid, enzyme inhibitors and difficult-to-digest complex sugars into the soaking water. So, it is very important to rinse out the beans thoroughly and cover them with fresh water before cooking. Don't worry about the color of the beans… they darken back to their normal color after being cooked.
Another wonderful benefit of soaking your beans is shorter cooking time. So you save on gas, electricity or whatever you use to cook that pot of beans on!
So, with all that said… the doctors encourage us to teach the locals about soaking their beans (among many other things) to help eliminate the side-effects. We are praying about how and when to do that… hopefully it will be well received. We need to look for a cheap, bulk source of baking soda that we can give to those who come to the class to try for themselves in their homes. I am looking forward to starting some sort of educational class over the next couple months… we shall see what God will do ;o)
Anyway, you can find the recipe and directions on how to prepare and cook your beans
here
…
Ok… now the giveaway! I really like this "Everything Bean" ebook because I've been searching around Amazon.com for a good bean cookbook that I could use to "spice" up our weekly norm of beans and rice… found nothing worth getting.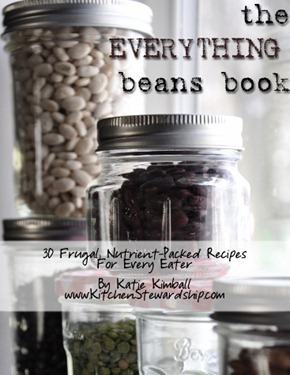 Then I came across Katie's bean cookbook. Of course, I had to check it out and so glad I did! She has many wonderful recipes.. some unique and very interesting. She also shares a lot of great information and ideas. Head over there, check it out and buy yourself a copy!
Ok, I know many of you out there would much rather win a free eBook… So, here we go!
A free "The Everything Beans" eBook to one winner! Thanks to Katie! I really enjoy the book and can't wait to print it out.
First, go check out the Table of Contents and pick out a meal that you would love to try… then come back here and let me know in the comments section! That's one entry…

please read on for more entries to increase your chance of winning!
Extra Entries…
You must do the main entry above first before doing the extra entries. Remember that each entry is a separate comment! Thanks and have fun!
Sign up for free email updates from Kitchen Stewardship

Subscribe to receive my posts via email (1 entry)

Follow my blog (1 entry)

"Like" Kitchen Stewardship on Facebook and share on your wall (1 entry)
"Like" Just Making Noise on Facebook and share on your wall (1 entry)
Follow me on Twitter and tweet about the giveaway! (1 entry)

Email your friends about the giveaway and leave a comment for each friend you emailed! (1 entry for EACH friend you email!)
Remember, if you've already done most of the above… you automatically get those entries. Please post a separate comment for EACH entry. You can have a total of 7 entries or more!
Every comment must have an email address. You can comment with your blog as long as I can contact you through there! The giveaway ends May 10th and is open to anybody in the world! The winner will be chosen via random.org
Now get to work and have fun! Thanks for participating and spreading the word about the giveaway. Hugs!