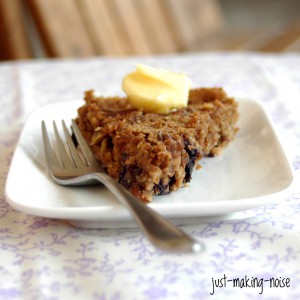 Remember how I said before that I felt like these muffins were going to be a challenge? Well, as you can see from the picture below… they didn't exactly come out the way I know they should've. I doubled the recipe and followed the directions… everything looked great and the sourdough was bubbling very happily.
I did the first batch in the muffin tins
and while it was baking… I decided to pour the rest into 2- 9 inch round pans
because I was ready to call it a day (I was making these at 8:30 in the evening… I was still figuring out the how the whole sourdough schedule worked, ha!) and watch a movie with my hubby.
Boy, am I glad I made that last minute decision to bake the rest of the batter in the 9′ round pans
! As you can see above, it looks great, but the muffins… which don't even look like muffins (see below)… came out flat and ugly. Even though they flopped, it did taste yummy and we enjoyed them for breakfast the next morning! LOL!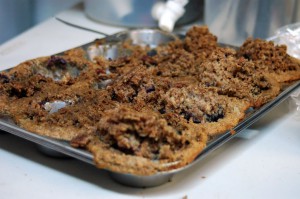 So, I head over the the GNOWFGLINS eCourse Forums to find out what went wrong and this is what I learned:
Your batter set aside to sour MUST be on the thick side. If your batter is too thin after the souring, your muffins will not rise as you like. The taste will be delicious and the texture pleasing, but you will not see the rise. When making the initial batter begin by stirring your starter and milk. Add your oats. Stir. Add one cup of flour. Stir. Add MORE flour until you have a thick batter. The thicker the batter the better the rise. You don't necessarily want it stiff but most definitely thick. If in the morning you wonder if it's too thin, use only one egg, use a dry sweetener, and only stir in non-wet add-ins.

I made them this morning being mindful to stir in more flour initially. I use a thicker starter anyway and store bought 100% hard red flour. I added a little more than 1 1/2 cups flour to my batter. After the souring I chose to use only one egg and added a large grated carrot. My muffins had nice rise, delicious taste, and a perfect texture.
I remember the batter being pretty thin when I was getting ready to bake them and remember wondering if that was going to be a problem. So, next time I will make sure to add more flour to thicken the batter. I will try to remember to post about it if they come out the way they should ;o)
Like I said… even though the muffins flopped, they tasted delicious. I was very surprised that the sourdough tang wasn't strong at all! My girls loved it with with lots of butter and honey drizzled on top. It also made a great snack… my hubby was in and out of the kitchen a few times and snacking on them :o)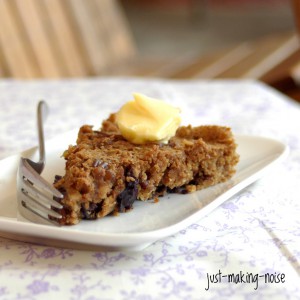 Banana Blueberry Nut Sourdough Bread


1/2 cup sourdough starter (fed in the previous 12 hours)
1 cup coconut milk (or milk of your choice)
1 cup plus MORE of whole wheat flour
1/2 cup old fashioned oats
1 teaspoon vanilla
2 teaspoons cinnamon
1/2 teaspoon sea salt
1-2 eggs
1/3 cup butter or coconut oil
1/4 cup raw sugar (rapadura or coconut sugar)
1 cup mashed ripe bananas
1 cup blueberries
1/2 cup chopped pecans or other
1 teaspoon baking soda
1/2 teaspoon baking powder
butter or coconut oil for greasing baking dish


In a large bowl, stir together 1/2 cup sourdough starter and 1 cup coconut milk. Add in the oats and stir until oats are wet. Add in 1 cup of whole wheat flour, stir well and add more if needed. Your dough should be wet, sticky, and thick. Cover and set aside to sour for 8 or more hours.


8 or more hours later…


Preheat oven to 375 degrees Fahrenheit. Grease your muffin pans or bread pans with butter. Set aside.


In a small bowl whisk together eggs, melted butter, sweetener, vanilla, cinnamon and sea salt. Pour into the soured batter and stir with a wooden spoon, gently mix until incorporated. (Note from creator: It is important to break up as much of the soured batter as you are able. This will give you a deliciously tender and moist muffin. Bits of batter that have not been broken up will be a different texture (more firm) and a different color (lighter) than the rest of your muffin. The taste, however, will not be affected.)


Gently stir in mashed bananas & blueberries (or hold the blueberries and sprinkle them on top of the batter after you've poured them into your pans… that way they won't fall to the bottom). Mix in the baking powder & baking soda into the batter. Quickly and carefully stir to incorporate. Spoon into prepared muffin tins or pour into your 8″ or 9″ baking pans. Top with chopped pecans or your choice of nuts.


Bake for 15 to 25 minutes (it took about 10 minutes longer because I am in higher altitude) or until a toothpick inserted in a center comes out clean. Remove from oven and leave to cool for about 10 minutes before serving it topped with butter and honey… with fried eggs on the side!


These guys freeze great and store well in a sealed container on the counter or refrigerator for up to a week!
What are your favorite flavors of muffins and bread? Have you joined the
Sourdough eCourse
, yet?