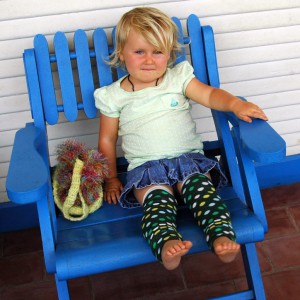 Naomi Shalom is now 3 years old! Yesterday was the day, but I was unable to write up a post due to blog troubles. Oh well! Better late then never :o) My in-laws are here for the week and we enjoyed a simple day as a family. Naomi is blessed to have her Grammie and Grandpa here for her birthday. I made a yummy Banana Coconut Chocolate Chip Cake (Naomi's favorite ingredients) while my mom whipped up some Arroz con Pollo (Naomi's favorite Costa Rican dish). Everything was delicious!
I am so blessed to have such a spunky, strong & feisty daughter. She brings sunshine into our home. I am learning more and more about the importance of walking in grace and love with Naomi. She is so much like me and that makes it challenging at times. Thankfully, Jon works very well with Naomi and I am always learning from him as we work together to train Naomi up in the way of the Lord. I can't imagine doing it without Jon… Naomi needs her Daddy just as much as she needs me.
"Fathers, do not provoke your children to anger by the way you treat them. Rather, bring them up with the discipline and instruction that comes from the Lord."

"These are the commands, decrees and laws the LORD your God directed me to teach you to observe in the land that you are crossing the Jordan to possess, so that you, your children and their children after them may fear the LORD your God as long as you live by keeping all his decrees and commands that I give you, and so that you may enjoy long life. Hear, O Israel, and be careful to obey so that it may go well with you and that you may increase greatly in a land flowing with milk and honey, just as the LORD, the God of your fathers, promised you.

Hear, O Israel: The LORD our God, the LORD is one. Love the LORD your God with all your heart and with all your soul and with all your strength. These commandments that I give you today are to be upon your hearts. Impress them on your children. Talk about them when you sit at home and when you walk along the road, when you lie down and when you get up. Tie them as symbols on your hands and bind them on your foreheads. Write them on the doorframes of your houses and on your gates."
Its not easy to raise two young girls and an awesome responsibility. I remember back before I was pregnant I didn't think I was fit to raise a child… especially two! God obviously proved me wrong :o) Now, I can't imagine my life without my girls!
For those who don't know… Naomi Shalom means "Beautiful Peace". We decided that name even though we didn't know if we were going to have a boy or girl. It fits her so perfectly because right before she was born, the Lord brought a peace over me and my fears of pain and the birth were taken away. When I went into labor… there was such a calmness and peace around me and my family. The Lord blessed us with an easy labor and natural birth… it was a beautiful time, especially when we all first looked upon our baby girl, Naomi Shalom.
"Grandchildren are the crowning glory of the aged;

parents are the pride of their children."
It is our prayer that Naomi will grow up to be a godly woman who will love the Lord with all her heart, soul, mind and strength… and love others. We can't expect perfection, but we can expect God's best in her life. Jon and I are not alone in this… my parents, who live with us, are a blessing and huge help. Naomi has a wonderful and special relationship with her Papi and Nina, especially Papi. She loves to follow him around and "help" him while he cares his plants… It is a joy to watch her with my parents because not many kids see their grandparents everyday. I am blessed to have parents who love the Lord and support us. Naomi and Tabi are truly the crowning glory of my parents :o)
I want to share with you a few pictures I took of Naomi and her Daddy… Wow, she was so tiny!
Have a wonderful week!