Oigo – Costa Rican saying for: Hey or Listen Up!
I hope you all a good week. I am sorry that I've been absent, but my in-laws are here, we have been updating and working on our RO4Y newsletter to send out via mail AND some other things came up. Yeah, I've been pretty busy, but now I'm back!
So, usually everybody has a favorite day, right? Garfield (and most people) hate Mondays, but I don't know who hates Fridays… I love Fridays! Its Farmer's Market (Feria) day. Its the end of the week. I can have my hubby home for the weekend. Dinner is usually early, easy and light because we sometimes make popcorn and watch a family movie.
You know, I just suddenly had a flash back: TGI Friday's… back before we started the road of healthy eating and nourishing foods, it was one of my favorite places to eat. We would ALWAYS order their killer brownie for dessert and walk away feeling sick (now I know why!). Why am I talking about this? For those who don't know… TGI Friday's means: Thank God It's Friday!
Anyway…

Today I decided to make Quesadillas for dinner and realized I've kept this yummy idea from you for too long now.
Every time I make this… I love the results, especially if I leave it in the fridge overnight to let all the flavors soak into the cheese. I came up with this idea several months ago while making dinner for my family and some friends.
Now, let me explain something, I really enjoy quesadillas… I do, but I don't enjoy how the veggies and cheese would often fall out or get pulled out when I am taking a bite. That night, while I was thinking about that and working on a huge block of fresh raw cheese, a great idea popped up in my head…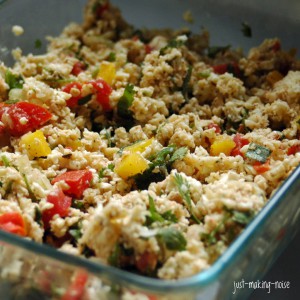 Delicious Cheese Mixture




Big blocks of fresh cheese (your choice)

Fresh cilantro

Tomatoes

Onions

Bell Peppers

Jalapenos (opional)

LOTS of fresh garlic, minced

Dried or fresh oregano

Black pepper

Sea salt

Dried chile peppers (optional)

Ground cooked beef or chicken (optional)




Grate your choice of cheeses (I love white cheddar and mozzarella together). Finely chop all the veggies and cilantro into small pieces. Mix in with the cheese (adjust according to your tastes… I like a even amount of everything, but sometimes add extra tomatoes). Add a big scoop of dried or fresh chopped oregano (I use about 1-2 Tbsp.). Grind in fresh pepper to taste and add sea salt if needed (I don't usually need to because the cheese already supplies the salt). If I don't have jalapenos… I like to add dried chile peppers for a spicy flavor.




Mix everything together well and either… 1) use it right away OR for the BEST results… 2) put in a sealed container and let it sit in your fridge overnight. Proceed to top your flour tortillas, fold over and toast both sides on a hot, oiled pan. Enjoy with fresh avocado, lime and salsa.



Often times I use it right away, but always have a lot leftover. The flavors are even better the next day or two (great for lunches!). Stronger, spicier and so tasty! Now, I try to make it ahead of time and use it a day or two later for the best quesadillas ever! The cheese and veggies don't come out in clumps and everything melts really evenly. I know it probably sounds tacky to say that, but…

Seriously, that is what I think and what my family and friends are telling me.
Also, you can use the leftover cheese mix to make omelets. So delicious with some lime sprinkled on top!!
When you go grocery shopping… make sure you put this on your list and try it. Now, off I go to the market to do my weekly shopping. Have a great weekend!