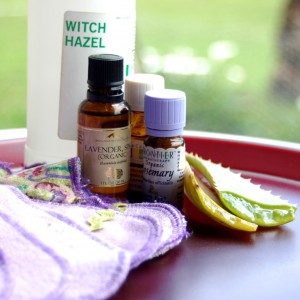 I made these pads when pregnant with Tobi and it did wonders for me after the birth. It felt so soothing… and cold, but in a good way! They helped a lot with the soreness and swelling associated with having a vaginal birth. Each ingredient has specific purposes for promoting healing of the vaginal area along with bring relief. Read on to learn what each ingredient does to bring comfort in the midst of the postpartum period…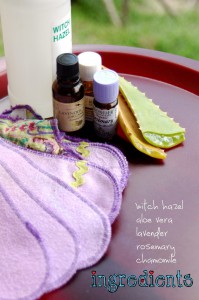 Witch Hazel:

A mama's best friend during the postpartum healing time. It is a natural astringent, helps reduce swelling and typically used on swollen body parts… birthing does give our bodies quite a beating! This soothing liquid makes a wonderful treatment for two problems that can happen to new mamas – sore perineum & hemorrhoids.
Aloe Vera:

Best known for its natural healing of skin, wounds and other skin issues. It's excellent anti-inflammatory properties help relieve joint & muscle pains. It is SO soothing on a sore perineum and leaves you feeling revitalized.
My choices of essential oils…

Lavender, Rosemary and German Chamomile

… not only smell wonderful when combined, but all are natural astringents that help with reducing swelling. Each of them also have their own special ways of helping along the healing process:
Lavender essential oil has a wonderful calming scent which can help in treating nervous exhaustion, restlessness, emotional stress, nervous tension, headaches, anxiety and increase mental activity. It is also an excellent remedy for various types of pains caused by sore muscles, tense muscles, muscular aches, backaches and the lumbago (lower back) area. Lavender oil is good for improving blood circulation in the body, which is essential for complete healing in the perineum area.
Rosemary essential oil has the ability to strengthen the entire body and relieve pain (like lavender) associated with muscle pains, sore muscles & headaches. It also boosts mental activity, so when your brain feels tired (and we do feel brain-tired after having a baby!)… inhale some rosemary oil to get fresh mental energy!
German Chamomile essential oil is a workhorse being naturally anti-septic, anti-biotic, won't let biotic infections (such as bacteria, fungi, etc.) develop, wipes off infections already present, can effectively reduce pain in the muscles & joints, calms all nervous disturbances, is effective in curing inflammation and check swelling of the blood vessels. In nature, it is a tonic that helps tone up the skin, muscles, internal organs and more.
Knowing all this just brings a huge smile of awe on my face because God is so good to give us the resources to naturally heal ourselves! Now you know these cool & soothing pads will help bring comfort after childbirth and allow you to enjoy your new baby without being too distracted by the postpartum healing that can be painful and challenging.
Where to Purchase Everything
Thankfully, all these ingredients are very easy to find and reasonably priced. You will most likely be able to find everything you need at your local health food store. Knowing that prices are always a little more at the local health food store… you can simply purchase the witch hazel at any drug store for cheap and buy your aloe vera (or use your fresh leaves!) & essential oils online for less.
I love to buy my essential oils from Mountain Rose Herbs, they have lasted me a long time! I've also purchased my essential oils from Vitacost.com (this is my referral link, you can get an instant $10 coupon on your first purchase!) and have been happy with the Aura Cacia brand, but quality-wise… Mountain Rose Herbs' essential oils are the ones to get.
The pads you see in my pictures are from Lunapads and I love them. They don't feel bulky and are very comfortable. There are other companies that make cloth pads and prices varies, but you can easily make your own pads if you are sewing savvy!
For pads, I used my cloth ones because they are more breathable and aren't full of stuff that can irritate the vaginal area (plus, I save so much money using them!). I prefer to put the special liquid on the inserts that slip onto the pads, but you can put it directly on the pads itself. You can use disposable pads, but be sure to get unscented or natural kinds!
I would prepare 15-25 pads and put them all in a plastic container to store until ready to use.
What you will need:
Overnight maxi pads (cloth or disposable)
2 cups Witch Hazel (distilled extract, available at any drug store)
½ cup pure, edible Aloe Vera gel/juice (fresh or store bought)
15-20 drops Lavender essential oil
15-20 drops Rosemary essential oil
15-20 drops German Chamomile essential oil
In bowl, thoroughly combine everything. Pour into a small spray bottle or simply use a Tablespoon. Unfold the pads and spray each pad until damp or pour 1 Tbsp. (make a vertical line down the center area) on each pad. Wrap each pad in aluminum foil and store in the freezer. When ready to use, take one out and unwrap it. Let it thaw for about 2 minutes before put it on. If you put it on right away, it will be COLD… but it feels great!!
Note: If you are using fresh aloe vera leaves. Simply peel the skin off and lightly rinse it. Then put the clear gel in your blender and blend until smooth.