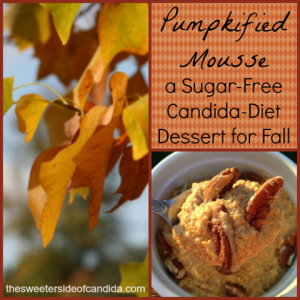 Note from Marillyn: During the months of September and October you will be seeing several good blogger friends to do guest posts for me on Just Making Noise. This is totally a blessing and a way to keep things going here while my family and I are on our furlough.
Today is a guest post from Paula at Whole Intentions and I am very impressed with her pumpkin dessert that she is sharing with us today! Thank you, Paula! This gal knows what she is doing when it comes to sugar-free desserts. She even has an eBook coming out soon specifically focused on sugar-free & candida-friendly dessert recipes using wholesome ingredients!
Nothing says fall like pumpkins.

Except maybe football. boots. snuggling. and sweaters.

Sure, you can feel it in the air, you can hear it in the crunch beneath your feet (no, it's not Cheerios), but it really hits home when you can taste it!
When you start looking for Thanksgiving recipes, what do you type into Google? Pumpkins. When you want a fall cookie for the cookie exchange, what do you flip through recipe books for? Pumpkin. Waffles in bed? Pumpkin.

Once October hits it's like a switch goes off and you want to eat all the pumpkin you can. Pumpkin pie. Pumpkin cookies. Pumpkin Cheesecake. Pumpkin Bars. And a big pumpkin caboose. Oh, wait. That's what happens after all the pumpkin goodies. So how can you enjoy all your pumpkin goodness without needing to join a gym come January?

Make it sugar and grain-free, sweetie, and you can enjoy without regrets! Here's one of my favorite fall desserts: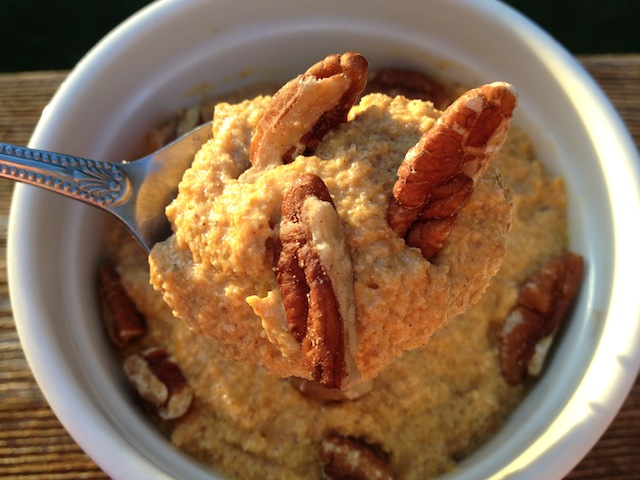 Pumpkified Cheesecake Mousse
2 T. chia seeds

1/2 c. + 1 Tbs. xylitol granules, powdered

1 – 15 oz. can pumpkin puree

1 tsp. cinnamon

1/2 tsp. ginger

1/4 tsp. cloves

1/2 c. + 1 Tbs. almond or coconut milk

1 stick butter, softened

8 oz. cream cheese, softened

2 tsp. vanilla extract

1 tsp. almond extract

pinch of celtic sea salt

stevia to taste

pecans

Directions
Grind chia seeds and xylitol in small coffee grinder or high powered blender until a very fine powder.

In a medium mixing bowl, combine ground chia seeds and xylitol with all the other ingredients except the stevia and pecans. Blend well. Add stevia to taste – a little at a time.

Refrigerate about 1 hour before serving. Garnish with pecans before serving.

Store in refrigerator.

Let's look at some of the main ingredients:
1. Chia seeds – an 'superfood' appetite suppressant known for absorbing liquid and swelling which means they make you feel full faster and stay full longer.
2. Xylitol – a sugar alcohol that contains 40% less calories and 75% less carbs than sugar.
3. Butter – a good-for-you-fat. Don't let all the hype over the last 20 years scare you. Good fats like grass fed butter do not make you fat.
4. Cream Cheese – another good-for-you-fat. You can now find greek yogurt/cream cheese which has live cultures in it.
5. Stevia – a natural herb that has no calories, no carbs, and is nearly 300 times sweeter than sugar. Can life get any sweeter?

Desserts and Candida
Not only does a dessert like this fill you up and taste amazing, it's also fully edible for those on a candida diet.

If you're not familiar with candida, it's a yeast-like fungus that can overgrow a person's digestive system and cause a LOT of health issues. One of the hardest parts of having candida, especially during the holidays, is the need to be on a strict sugar-free diet.


The number one food candida loves is. . .you got it, sugar. Candida hugs it, kisses it, and devours it in one bite. It craves it, dreams about it, and plans exotic vacations with it.
It's just a tad bit obsessed.
And candida could care less if it's organic sugar, raw, fruit sugar, honey, white sugar, or corn syrup. Any kind of sugar makes it do the happy dance. And just in case you didn't know – we don't like the candida happy dance. ~ The Sweeter Side of Candida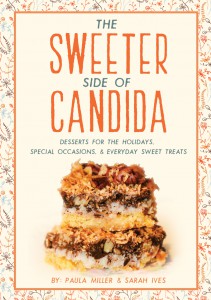 My friend Sarah and I created this cookbook because we know how hard it can be to stick to a careful diet whether you need to specifically for candida, or simply to lose weight. You can find more than seventy (70!) delicious candida-diet approved and sugar-free recipes in The Sweeter Side to Candida. But don't take our word for it, get pumpkified 😉
Paula is a homeschooling mom of five. Several family health issues involving Lyme Disease, food allergies, and candida has created a passion to write about whole food, whole living, and whole faith over at, where else but… Whole Intentions 🙂 She's authored and co-authored candida cookbooks such as Healing Candida with Food and The Sweeter Side of Candida. You can touch base with her on Google+, Facebook, and Twitter.