Whew! We have been back in our home for almost a week now and it feels really good to be back in our space, but we are still going through some re-entry adjustments.

All in all, we had a great furlough… it was busy, but fruitful. We've come away with many new memories and my girls' birthday party is one of them.

My two oldest girls, Naomi & Tabitha, are unique… they are my Labor Day babies. Both born on Labor Day two years & 3 days apart. I always say God sure has a sense of humor having me go to labor and birth on Labor Day… not once, but twice in a row!

For the past few years, we've celebrated the girls' birthdays right at the beginning of our yearly furlough. I did my best with doing simple birthday celebrations for them, but this year decided to really go an extra mile and put in extra effort to really throw a party for them.

I actually started planning, by accident, back in May!


It all started on Pinterest… of course (rolling eyes). I was simply browsing around and a beautiful picture of a rainbow cake caught my eye… not only that, but the caption said something about using homemade, all natural dyes.

Yep, that caught my attention and an idea started blooming in my mind.

That's when I started my 'Birthday Pin Board'. Gotta love Pinterest!


I started planning, pinning and made a list…

Girls' Birthday Party – Rainbow Theme

Rainbow skirts for all 3 girls.
– measure them (waist & length)
– ask a friend if she can make 3 of this rainbow skirt.

Birthday banners
– rainbow colors
– order from Etsy

Small Plastic Horses
– spray paint them in red, green, blue, purple & orange (orange turned out hideous!)

Cake Stand
– ask a friend to make a simple kind using a wood circle and old ice cream sundae glass.
– spray paint white or red?

Rainbow Cupcakes
– contact a friend to help make the cupcakes
– bake in mason jars
– make simple buttercream frosting
– make rainbow sprinkles using natural, homemade dyes and coconut sprinkles

Rainbow Fruit Sorbet
– buy fresh or frozen fruits (strawberry/banana, mango, pineapple/banana, kiwi and
blueberry)
What made this a successful party was my asking for help from friends. I learned from past experiences that I couldn't pull off a simple party like this without some help!

All of them were glad to do it… especially for the girls. You all know who you are, thank you!



I get to work prepping for the party… getting my colorful stripe dishes out (my family kept them for us when we moved to Central America!) and setting up everything on the table.

I also started working on the rainbow fruit sorbet, which I will share more below. My friend dropped off the cupcakes and I send my mother-in-law out to the garage to spray paint the mini-horses.

During this time, the girls were kept busy upstairs so they wouldn't see their 'surprise' party.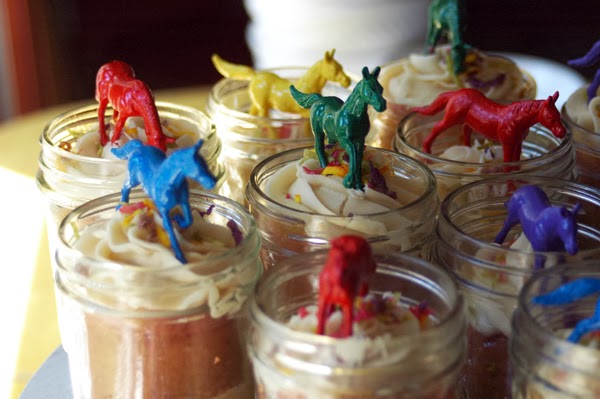 Once the mini-horses were dried. I set them up on the cupcakes… they were perfect. Do they look awesome?!

I did have orange spray paint, but it came out clumpy and a hideous bright orange color. The paint was coming off and I didn't like the idea of eating bright neon orange paint with my cupcake. Those poor neon orange horses got tossed aside.
The colorful sprinkles on top… those are actually coconut flakes that have been naturally colored!

I will have to do a post on how to make homemade colored sprinkles with coconut flakes. It is pretty simple and a fun project that I know my girls will enjoy! The sprinkles really perked everything up. I almost didn't even want to do them, but change my mind later. So glad I did!

I set up all the jars on the cake stand and around the front of the stand on the table. I was so pleased with how everything was coming together. Shows how a good attitude helps you see everything in a different & better light!
So, using the natural rainbow cake recipe… my friend helped make these rainbow cupcakes and the buttercream. Do they look lovely and natural?!

She was concern the colors weren't bright enough, but I wasn't expecting the bright, obnoxious, artificial rainbow colors and thought they looked perfect and so natural. Like they should look!

For the ingredients, I originally wanted to use sprouted flour, but the bag I ordered didn't come in time. We made do with regular whole white wheat flour with a little bit of unbleached flour. We used organic cane sugar, but we cut the cane sugar back by a 1/2 cup or so. We also cut the sugar back in the buttercream. My girls don't like sweet cake (woohoo!) and neither do I.

The cake was a little dense & chewy, but tasted really yummy and the buttercream was perfect with it. Even my husband, who is not a fan of cakes, really liked it a lot!
Next is the rainbow fruit sorbet.

Of course.

Me being the "Ice Cream Queen" and recently knighted as "The Ice Cream Mentor" by some of you guys… I had to make and serve some form of homemade ice cream for the girls' party!!

My parents have an ice cream maker, but I didn't have time to re-freeze the bowl over and over to get all the rainbow colors. So, I did a short-cut that is super easy and a no-fail method!

You can actually find the tutorial of how to make the rainbow sorbet in my ice cream ebook, Just Making Ice Cream… there's even a picture of it on the front cover!

Hmm, maybe I will share with you how I make these fantastic rainbow sorbets in a later post… with a video, maybe ;o)

Anyway, I like to mix banana with the frozen strawberries and pineapples because of their higher water contend… which can make them very icy once frozen. The banana helps them stay creamier and makes it easier to make nice scoops once the sorbet thaws a little.
Man, the textures and colors of this rainbow sorbet is just downright delicious! When thawed a bit, the sorbet scooped up beautifully. See the last picture below.

Next, I send up the girls' outfits. Darling rainbow skirts handmade by a local friend!

I finished prepping everything and got my photos done. Just before we were expecting our guests to arrive… I called down the girls and we got ready with our cameras to capture their expressions when they saw the table.

As you can see… they loved it!


"Oh mama! The horses look so cute! Did you paint them?"
"Mama made rainbow sorbet! Yea!"
"Ooh, look at the colorful cakes in the jar!"

"Look, there are sprinkles on the frosting!"
"We are having a rainbow party! Thank you Mama!"

Even though Poema's birthday wasn't until October I still had to have a skirt made for her!!

Don't they all look darling?!

I am humbled and honored that the Lord has blessed me with 3 girls. I have a big responsibility in raising them because they will be learning from me as they grow up.

I pray that my life will lead each of them to desire a relationship with our Lord and follow Him all the days of their lives.

I want to show them a love of life that can found only in Jesus.

I want to be an example of a humbled wife that loves and submits to her husband through everything. I want to show them the joy that can be found in family and children, no matter how challenging it can get.

When I pass on from this world, I want to be remembered by them as a woman, wife and mama who loved Jesus with all her heart, soul, mind and strength. Leaving them inspired to do that same.

That's a big and sometimes scary responsibility. I am human and make mistakes, but I remind myself that my girls don't need me to be perfect… they just need me to be real and humble.

That's all.
The party was a hit. The cupcakes were delicious. The rainbow sorbet was yummy. Everyone enjoyed their time with us and celebrating the girls' birthdays.

Thank you Lord for another year that we can celebrate with our 3 special girls!