Well, things have been quiet around here for many reasons… Writer's block, lack of motivation, my parents visiting, tired and life is busy on our homestead in Honduras. But that's normal and the life God has called me to embrace! I am learning to accept the changes that God wants to do in my life. Better to go along than put up a fight that I know I will never win :o)


Anyway…


I am still on a roll with my Honduran Sourdough buddy and loving it! I know I am sounding like a broken record, but seriously… you gotta get the Sourdough A to Z eBook and try it out! I've already made several things that I need to catch up on and share with you all… chocolate sourdough cake, sourdough biscuits and noodles. Right now, I gotta share with you my cornbread…


Who doesn't love a warm, thick slice of sweet cornbread with a steamy bowl of chili or soup?! Oh man, it's so good! Especially served straight out of my hot cast-iron skillet. Using sourdough only made it even better… the slight tang of sourdough dances lovely with the spice of molasses!
The girls always ask for an "adult size" slice of cornbread and chow it down with lots of butter & honey… LOL! My hubby loves it too, but has been begging for me to make cornbread with jalapenos, oh yuck! To me, that is just wrong… BUT I will do it for my hubby and I just might like it. I can change up the recipe a bit and add some herbs to make it more savory to blend well with jalapenos.
I also made some blueberry molasses sourdough cornbread muffins for breakfast the other morning… it was a hit! Will need to make it again, take some pictures and share the recipe with you all… hopefully ;o)
Cast-Iron Skillet Sourdough Molasses Cornbread
1 cup sourdough starter (fed in the last 12 hours)
1 1/2 cup whole wheat flour
1/3 cup raw honey & molasses
In a glass bowl, stir together starter, milk, cornmeal and whole wheat flour. If needed, add more flour to make a THICK batter. Cover and let it sour for at least 8 hours (less if you have a warm kitchen).
Preheat oven and your cast-iron skillet to 400.
Pour 1-3 Tablespoon of molasses (depends on how strong you want the molasses flavor to be) into the 1/3 cup and fill the rest with raw honey. Pour into a small bowl and mix together with butter, eggs and sea salt. Make a hole in the soured dough, pour in liquids and stir. Sprinkle in the baking soda and baking powder. Stir carefully till fully incorporated.
Pull skillet out of the oven and slap on some butter… swirl it to spread it out. Pour in the batter and bake on the center rack for about 20 minutes (more like 30 with the high altitude for me) or till it looks golden brown and toothpick comes out clean. Let it cool for about 10 minutes (if you can wait that long!) and serve with LOTS of butter & honey.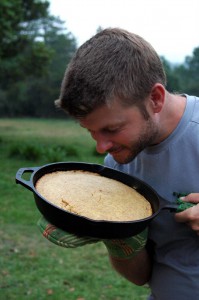 Like my hubby above… hope you enjoy your delicious, crispy, fluffy cornbread :o)