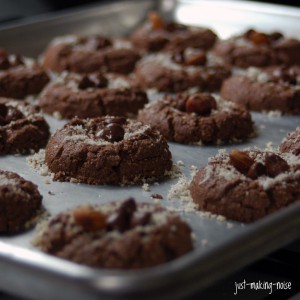 I have these wonderful cookies to share with you all. I really wish there was some way to program the smell of these cookies into the post so you all can smell and drool over these rich little guys, but pictures will have to do 🙂

These cookies were a breeze to make! They are also grain-free, egg-free and can be made dairy-free by using coconut oil instead of butter (I used half and half). I topped these guys with fresh homemade shredded coconut & chocolate chips. So rich, crumbly and SO YUMMY! I also love the fact that these guys are so healthy and nutritious. A great sweet snack in the afternoon with a glass of fresh, raw milk!
I just realized that these cookies can also be vegan simply using coconut oil instead of butter. Didn't try to do that on purpose :o)
Anyway, arrowroot powder is one of the main ingredients in these cookies. It is a white powder used as a thickener and actually a nutritious food (more so than potato starch or cornstarch). Let me share with you what I learned about this wonderful, yet uncommon, powder.
Arrowroot Powder

 

Arrowroot flour (powder), the only starch with a calcium ash, is a nutritious food, obtained from the fleshly root stock of a tropical American plant. It is an easily digested food well fitted for infants and the convalescent.

It resembles cornstarch in being white, fine and powdery. When heated in water in certain portions, it thickens to form a jelly, an excellent thickening agent. It is also considered more desirable for gravies, sauces and pastries than some of the more common starches and flours. It is used primarily for food in dietetic use, where it enjoys a reputation for smoothness and palatability.

Arrowroot was once widely used in baby formula as a superior carbohydrate, experience having shown it agreed with babies better than any other starch or sugar. We now find the reason. It is the only starch product with a calcium ash. In this regard, the calcium chloride, in the form of calcium found in arrowroot starch, is very important for the maintenance of proper acid and alkali balances in the human body.

Arrowroot only thrives on tidal flats where the sea minerals are available. Its known health-building properties may be due to trace minerals from the sea, as well as from the calcium it gets from the sea water. If it is used in ice cream formulas in place of cornstarch, arrowroot imparts a vanilla-like flavor, a smooth texture. Arrowroot as it comes to you is not a refined product; it is simply the dried and powdered root. -Royal Lee, DDS Journal of the National Academy of Research Biochemists
I use this stuff in my ice cream all the time and love it. I am planning to make more cookies and snacks using arrowroot powder. I will share them with you as I go along, of course. You can purchase Arrowroot Powder on Amazon. They have good prices and different brands.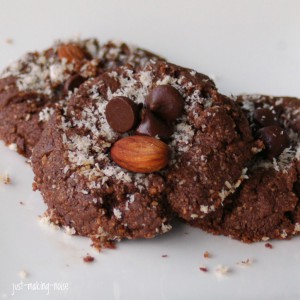 Flourless Chocolate Almond Cookies

1 1/2 cups dehydrated almonds (regular raw almonds can be used too)

1/2

plus

1/8 cups butter and/or coconut oil, softened

1 cup arrowroot

1/2 cup cocoa powder

1/2 cup raw sugar (coconut sugar, rapadura, etc..)

1/2 tsp. sea salt

1 1/2 tsp. vanilla extract

1 tsp. almond extract

extra almonds

coconut flakes (optional)

chocolate chips (optional)

Place almonds in food processor and process to a fine meal.

Add remaining ingredients, except extra almonds, and process until well blended.

Form dough into walnut-sized balls and place on buttered cookie sheets.

Press an almond into each ball and top with coconut flakes. Bake at 300 degrees for about 20 minutes.

After 5 minutes in the oven, press cookies down lightly with a fork and top with chocolate chips. Let it bake for the remaining 15 minutes. Let them cool completely before to an airtight container. Store in refrigerator.

NOTE: I left them out for 3 days (that's how long they lasted) and they tasted great. If you are not using coconut oil, then put them in the fridge right away. Coconut oil naturally preserves the cookies.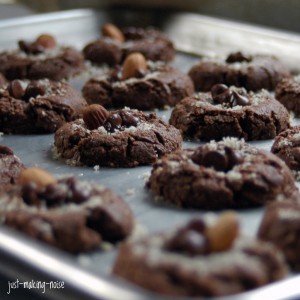 Please let me know what you think when you whip up a batch!