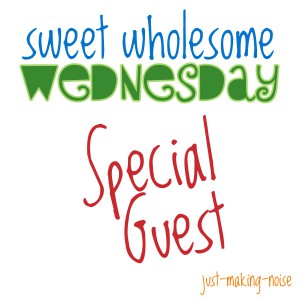 For today's Sweet Wholesome Wednesday I am thrilled to have Silvia from Citron & Vanille as my next Special Guest! Silvia is a darling franco-italian gal who runs a personal chef business in the San Francisco Bay Area… specializing in French, Italian & Mediterranean cuisines. As much as possible she makes it her goal to bring the best of healthy, organic & authentic ingredients to her customers. If you are in the Bay area… look her up! She also does dinner parties and I bet she is good… her blog looks delicious!
She first became a professional chef in France before moving to the USA and also provides French & Italian cooking classes. Oh my! I would just LOVE to take some classes with her… Italian is my comfort food and I would love to explore more of the authentic side of Italy's savory food.
I first met Silvia through Foodbuzz and discovered many wonderful, classic dishes on her Citron & Vanille blog. We hit off after discovering how like-minded we were about food, health and our love for Italian & Mediterranean cuisine. When I asked her to be my special guest… I had visions her making some totally traditional from France or Italy. I really wanted to see & taste a glimpse of one of those two countries that I may never see or taste in my lifetime. Yes, I've had French & Italian cuisine in the USA… who hasn't? But it is a completely different experience to actually eat in the country where the cuisine came from. Know what I mean?
Anyway, I am SO pleased with Silvia's choice of dessert! I've never seen or heard of this unique, yet traditional dessert and wish I was sitting in her kitchen while she whipped this up so I could have the first bite. I can't imagine how soft and refreshing that first bite must've been! I had to laugh at the creative names of this dessert… Eggs "snow-style" & Floating Islands. They look just like what they are called! I love it!
Now, enjoy yourselves and don't forget to stop by Silvia's site when you are done here… especially if you are in the Bay area!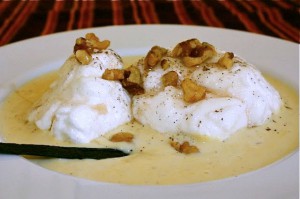 When Marillyn asked me to be a special guest on her blog, I proudly accepted without really thinking too much about it until the day she sent me an email requesting the text and photo by a specific date. Then I started to think about my deadline and I had no clear idea on what to make that would fit in her blog of nutritious and wholesome recipes.
Then, she suggested to make something simple from France or Italy. So, simplicity here I come. When I think about desserts, France comes to my mind. If you've ever been to France and visited its "pâtisseries", you will know what I am talking about. It's the sweet tooth land. The desserts are not only beautiful, but they are absolutely delightful. I don't have a sweet tooth at all but something like this French dessert I am sharing with you all could turn me into one.
After being indecisive (as usual) about my dessert, and going back and forth between France or Italy, I decided to go ahead with this classic and traditional French dessert called "Oeufs à la neige" (eggs "snow-style") sometimes called "Iles flottantes" (Floating Islands) in restaurants to make it sound a little more sophisticated, but actually both are slightly different. The difference comes in the cooking method of the meringue (egg whites beaten with sugar). For Oeufs à la neige, the meringues are cooked in sweet boiling vanilla milk, whereas for Iles flottantes, they're cooked in the oven in a bain-marie. What we call bain marie is a cooking technique that consist of cooking a container of food in a larger container filled with water, may also be translated in English as "water bath".
The soft meringue looks like little clouds floating on a crème anglaise. It is a light dessert and perfect to finish a substantial meal, It's simple with just a few ingredients and always so refreshing.
Usually, what we call crème anglaise (English cream) is a light vanilla custard made with regular milk, so if you want to follow the traditional recipe, you can use it. I used almond milk instead because I absolutely love it. I used the lighter kind that has 40 calories per servings. It has a lighter and more subtle taste than the regular one. So you are getting an healthy dessert, but most of all… it is nutritious and light. Who can say no to that??
Even though it is a simple dessert, it can be quite tricky to make…the meringues cannot be overcooked, or they'll get rubbery, and will flatten out. They need to be very fluffy and have the consistency of a mousse that melts in your mouth after the first spoonful. The custard cannot be overcooked either or it will curdle. so the cooking time is critical.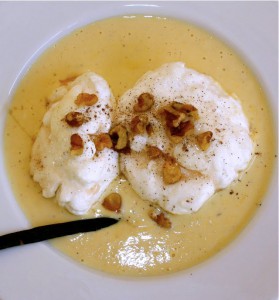 Oeufs à la neige

Ingredients for 6

2 cups (or 500 ml) regular milk or light almond milk
1 vanilla bean, cut lengthwise
5 eggs, yolks and whites separated
1 cup (or 250 g) organic granulated sugar
1 pinch of salt

For the caramel

3.52 oz (or 100 g) organic sugar
1 tbs water

Preparation

In two containers, separate whites from yolks. Beat whites to a stiff consistency with 6.34 oz (or 180 g) sugar (add sugar gradually at the end when the whites are half stiff). Add salt and keep beating.

Bring milk to a light boil in a pot with a vanilla bean split in two and remaining sugar. Add a large spoonful of egg white mixture. Cook for about 7-10 seconds on one side, then flip with a fork and cook on the other side. The meringues will expand so you want them fluffy and not overcooked. Remove with a spatula and drain excess liquid on a paper towel.

For the crème anglaise use the milk you just used to cook the egg whites. Beat yolk, then add hot milk on top, mix well and pour back on the pot. Cook at very low temperature always stirring. Do not let the milk boil or the cream will curdle. When the cream coats the spoon, it's cooked. Let it cool down and refrigerate.

For the caramel, melt sugar with water until the sugar liquefies and turns golden brown.

Place custard in deep bowls or soup plates, add one or two meringues on top. Sprinkle with toasted almonds or walnuts, vanilla powder and sprinkle some caramel sauce on top. Serve immediately.



Hmm! Silvia, m

erci tellement

…

Regarde merveilleux!
I hope you all enjoyed that as much as I did! Have a great week and don't forget to enter in the
giveaway
… it ends this Saturday!