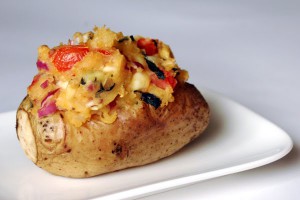 Please stop by Kimi's delicious, wholesome blog and see my guest post for her Healthy Dollar Menu series! She invited me and a few other bloggers to share recipes with the goal for each serving to be a dollar or under. I am honored to be invited to participate and can't wait to see what the others have come up with!
These DELICIOUS & ADDICTING Brushetta Stuffed Potatoes were only $.55 each!! The cheese & cultured dairy made these stuffed potatoes so filling and nourishing along with the savory brushetta.
It's Italian with a whole new twist!