We love this stuff! I always make this whenever I have a lot of leftover beans. So far, our favorite beans to use is: pinto, black and red beans. They bring out a lot of flavor while the white beans are less tasty and more starchy. We still have to try garbanzo, kidney beans and lentils… hopefully I'll get around to trying those soon.
Remember my post about the benefits of lacto-fermented foods? The proliferation of lactobacilli in fermented vegetables, fruits, legumes and grains enhances their digestibility and increases vitamin levels. Most beans are known to be high in starch and sugars, but the good bacteria converts the starch and sugars into beneficial lactic acid (a natural preservative that inhibits bacteria).
Ok, why would anyone want to lacto-ferment their veggies, fruits, legumes and grains? Because it is possible to preserve our foods in a "living & raw" state. The typical preserved or "canned" food you get at the store or make at home are not really considered "living & raw" food because they are normally exposed to heat.
I used black beans this time around and this stuff is great for any Latin American meal. It is great with breakfast burritos, chips and salsa, beef tacos and salads. My favorite is corn tortillas, sunny-side up eggs, bean paste, chopped tomatoes, cilantro and lime jui
ce. ¡Delicioso!
This recipe is from Nourishing Traditions. If you don't have that book, order it today!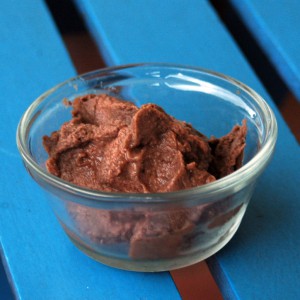 Fermented Bean Paste

3 or more cups basic beans, cooked and drained
1 onion (I prefer red)
3-6 garlic cloves, crushed and peeled
1 Tbsp sea salt
4 Tbsp whey

Put onion and garlic in food processor or blender and give it a whirl till well chopped. Add remaining ingredients and process until smooth. Place in quart-size, wide-mouth mason jar, leaving 1 inch of space at the top (important!). Cover tightly and leave at room temperature for about 3 days before transferring to the fridge.

I always add more beans than what the recipe calls for, but I don't change anything else. If you want you can decrease the amount of salt to 2 tsp. for one quart. We LOVE the salty flavor, but some might find it overpowering.

NOTE: It is important that you watch the beans… if the lid starts to pop out from the pressure. Open slightly, let some out the air and close it tightly again. The first bite always has a fizzy feel in the mouth, but don't worry! It is still good… trust me, you'll know when it is bad because you won't even want to smell it.