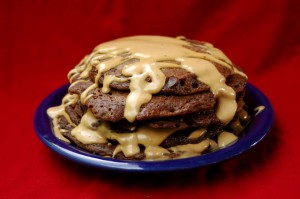 Okay, this is not a dessert, but it sure LOOKS like it! I'm not the kind of mama that feeds her family sugar for breakfast. Who says you can't have a little bit of cacao for breakfast? It is extremely nutritious and a superfood that actually gets your day going on a good start.
I made these pancakes using the blender & soak-method (like the millet & brown rice pancakes). They came out rich & oh so soft… like velvet. The rich, creamy sauce was the perfect touch of love. Must I say more?!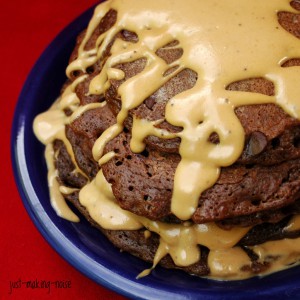 Double Chocolate Velvet Pancakes




1 cup rolled oats

1 cups soft wheat berries

2 cups kefir, buttermilk or water with 2 Tbsp whey, lemon juice or vinegar

Pour the ingredients in your blender and blend for a few mintues. Leave at room temperature overnight or up to 24 hours for improved nutrition.




2 eggs

2 tsp vanilla

1 tsp sea salt

2 Tbsp coconut oil

1/2 cup cocoa/cacao powder

1/3-1/2 cup coconut sugar (or other sweetener)

1 Tbsp flax seed (optional)

1/2 tsp baking soda

2 tsp baking powder

dark chocolate chips


Oil & preheat your pan (preferably cast-iron) on medium heat (be careful not to let it smoke).

Add and blend eggs, vanilla, sea salt & coconut oil. Make sure a vortex forms (if needed, add 1 tablespoon or more of water till batter is churning) before adding in cocoa powder, coconut sugar, optional flax seed and blend till smooth. Finally, add baking soda & baking powder and blend in thoroughly but briefly.

Make your pancakes by simply pouring the batter from the blender onto your hot pan. Let it sit for a minute and then drop a small handful of chocolate chips on top to evenly distribute the chocolate love. When you see bubbles on the top and the edges firming up… flip it over and cook it for a couple minutes. Usually, the first side takes longer (4-5 minutes) than the second side (1-2 minutes).




Serve it on a fun plate and drizzle heavily with Banana Love Sauce.




Banana Love Sauce

4 frozen bananas, slightly thawed
1/4-1/2 cup cream
3-4 Tbsp peanut butter

Blend everything together in your food processor or blender. Start with 1/4 cup cream and if you want a thinner sauce, add more cream (I used 1/4 cup). You can prepare this the day before… before you prepare your pancake batter and store in a sealed container in the fridge. Or if you have a food processor, make the sauce while making the pancakes. Drizzle in between pancakes for the best results.



Kindness is the language which the deaf can hear and the blind can see. ~Mark Twain