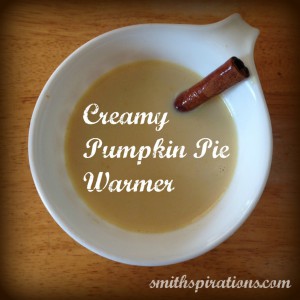 Note from Marillyn: During the months of September and October you will be seeing several good blogger friends to do guest posts for me on Just Making Noise. This is totally a blessing and a way to keep things going here while my family and I are on our furlough.
Today I am sharing a guest post from Kristen at Smithspirations
, a new friend and fellow Jesus-loving mama blogger. I am looking forward to trying this recipe out with my new mug… sounds so good! Thank you Kristen!
I'm one of those fools that just loves the fall.
Cardigans, scarves, crunchy leaves, and warm drinks are all treats that make my heart feel full.
As the temperatures and leaves have been dropping, I've been dreaming up a warm, slightly sweet, and creamy drink that would also include the lovely autumn flavor of pumpkin for weeks.
After requesting that my husband bring home lots of winter squash from the farm market, I was able to treat my children to this delicious drink on a chilly morning.
This lovely fall drink stars many healthy and nourishing ingredients like whole raw milk, real pumpkin puree, and coconut cream concentrate. Spices, vanilla, and a touch of sweetness from honey or maple syrup round out the flavors, and each mug must be finished off with its own cinnamon stick for stirring up the creamy goodness.
Hmmm, perfect for a chilly morning, afternoon pick-me-up, or family night treat. My children and I were just delighted with this drink, and I hope that your family will be, too!
Creamy Pumpkin Pie Warmer

This section contains an affiliate link to Tropical Traditions. Purchasing through this link as a new customers allows you to get a free book on virgin coconut oil and also blesses our family with a coupon at no additional cost to you. Thank you!
Ingredients
4 cups whole milk, preferably raw (coconut milk could be substituted if dairy-free)

1/2 cup pumpkin puree (other sweet winter squash puree can be substituted)

1 generous tablespoon coconut cream concentrate (I get mine from Tropical Traditions)

1 tablespoon vanilla extract

1 teaspoon ground cinnamon

1/4 teaspoon each ground ginger and nutmeg

pinch salt

2 tablespoons honey or maple syrup

4-8 cinnamon sticks
Instructions
Place all ingredients into a large saucepan and heat gently over medium-low heat, stirring with a whisk. You want to gently warm the milk without scalding or simmering it. *Note* If using a homemade pumpkin/squash puree, consider running it through the blender with some of the milk first to make sure that there are no chunks of pumpkin left in the finished drink. Using an immersion blender while heating would also work.

Pour out the drink into mugs. This amount will serve 4 large mugs, 6 medium, or 8 small. Place a cinnamon stick into each mug for stirring and enjoy!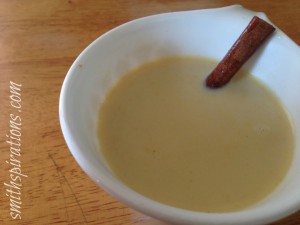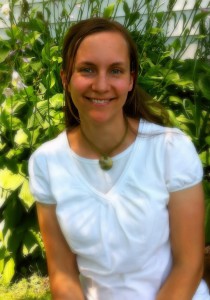 Kristen is a Christian, wife to her high school sweetheart, and mother to a growing brood of sweet little people. She spends her days keeping the home, homeschooling, making real food, gardening, blogging, and working from home as a
Lilla Rose Consultant
. You can find her at
Smithspirations
and on
Facebook
,
Twitter
, and
Pinterest
.