Today I am going to share with you some wonderfully tasty treats that is easy & quick to make! Not only that, but it is also totally wheat & gluten-free, egg-free & can be made dairy-free by substituting the butter with coconut oil. These cookies are very similar to the
Flourless Chocolate Almond Cookies
, but made with a spicy kick from the ginger, cinnamon, nutmeg & cloves… all the favorite spices of the fall/winter season! Ginger has many
health benefits
and valued for its medicinal qualities. Check out Divina's wonderful
Turmeric, Ginger & Lemon Tonic Tea
… a delicious liver tonic that will stimulate your digestive fire and bring your liver functions back to normal.
All the ingredients are common in most kitchens, so most of you should be able to whip this up in no time! These cookies make excellent snacks and guilt-free treats for your kids (wink)… especially for the holidays to come if you want to keep sugar on the down low to keep your immune system up and strong. Did you know that refined sugar suppresses your immunity and impairs your defense against infectious disease? Some say up to several hours, others say up to 2 weeks… either one is long enough to allow bacterial infections to settle in and knock you out for several days to several weeks! Bacteria and viruses eat and THRIVE on sugar. That's why I love focusing on using natural, alternative sweeteners that actually boost the immune system, kill bacterial & viral infections and more!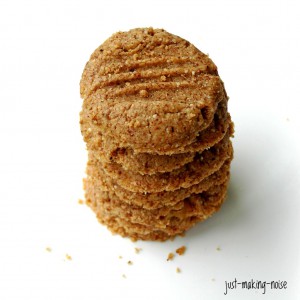 Spicy Ginger Snaps

1 1/2 cups almonds

1/2 cup butter, coconut oil or combination

1 cup arrowroot

1/2 cup coconut sugar, rapadura or other unrefined sugar

1 Tbsp water

1 1/2 tsp ground ginger

1 tsp cinnamon

1/4 tsp nutmeg

1/4 tsp ground cloves

1/2 tsp sea salt

I used soaked & dehydrated almonds, but you can use regular. Put almonds in a food processor or blender and process until finely ground. Add remaining ingredients and blend well.

Form into 1 Tbsp size balls or bigger and place on oiled cookie sheets. Bake at 300 F for 5 minutes and press cookies down lightly with a fork. Bake for 15-20 minutes more.

Let them cool completely before moving them into airtight containers. Store in refrigerator, but if you mix in coconut oil… you can leave it out in room temperature. Coconut oil acts as a natural preservative.
Remember to vote for my blog if you Love! It… I really appreciate that :o) Have a wonderful week and the weekend will be here before we know it!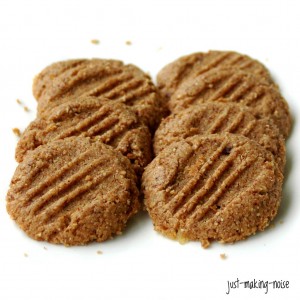 This post is part of Real Food Wednesday