Before we talk about these yummy yummy muffins… I want to announce the winners for the Spunky Coconut Cookbook & Organic Evaporated Palm Sugar giveaways!
The winner of the fantastic Spunky Coconut Cookbook is: Ann Marie! Congratulations!! I seriously wish I could give every one of you who entered the giveaway a free copy! This book is simple and inspiring… a must have for those who are trying to live a gluten, dairy & sugar free lifestyle.
Now, the winner to receive a free bag of Organic Evaporated Palm Sugar is: Brittney Harmon! Funny, she's a great friend of mine from CA… Woohoo Brit! Now you must make your chai for me :o)
Now, speaking of gluten, dairy & sugar-free lifestyle… the muffins…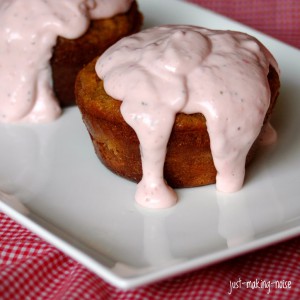 These are THE. BEST. muffins we've had so far made with coconut flour. Oh my! I actually made these girls over a month ago and we've enjoyed them a few more times since then. Since I made them I was trying to decide if I should post these muffins or not… then after a few weeks went by I decided to go for it. Share the love, right?
I made a few changes, but it breaks my heart that I can't claim this recipe completely mine :o) LOL!! I actually found this over at Elana's Pantry, she made them with blueberries…. which can be bought here at a "gringo" grocery store for a whopping $12 a bag (a very

small

bag & Dole brand) of frozen non-organic blueberries. No thanks, I'll just stick with a local fruit that is in season… strawberries!!
Yes, I did mentioned that strawberries pretty much grow year around here in Costa Rica, but they are at their peak time right now. Thankfully, I found a source of organic strawberries because they are listed on the Dirty Dozen. I've been buying 2 kilos every week now and storing them away in the freezer for smoothies and baked goods. I am so glad to have strawberries around now that mangos are not in season anymore. I was going crazy for a few weeks trying to find something to replace my mango addiction… yeah, it was tough :o)
Anyway, the reason why I say that these muffins were the best we've had is because I've tried 2 other muffin recipes that call for coconut flour. They tasted good, but had a very heavy and dry texture. Elana's muffins are light & fluffy with just the right amount of sweetness. I'm sure the blueberries taste wonderful, but the strawberries were fantastic with just the right amount of tartness to balance the mellow sweet flavors of the coconut flour. We've been enjoying them for breakfast topped with Strawberry Cream Cheese and we were surprised to find them very filling. My girls loved them and chowed them down, but Tabi's favorite is the cream cheese… she couldn't keep her fingers away even while I was taking pictures of the extras:
See how she dug her finger in there?! I was scolding her while she was sitting there waving that cute little finger over the muffins. She had on the this adorable mischievous face and was giggling like crazy… finally she snuck her finger in there while I was snapping away. I decided to just go with the flow and kept snapping away while she licked her finger and dung back in for some more. Then, Naomi sneaked over and decided to join in on the fun with the other muffin! My girls are so fun and crazy:
She got one last strawberry cream cheese finger coated lick… I took them away…
then we ate them :o)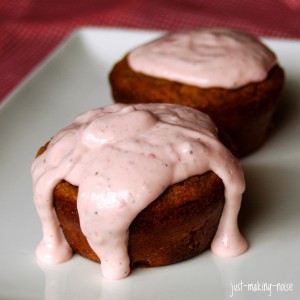 Strawberry Coconut Muffins

1/2 cup coconut flour

1/2 tsp sea salt
1/2 tsp baking soda
6 eggs
1/3 cup raw honey
1/3 cup coconut oil
1 tsp vanilla extract
1 cup strawberries, fresh or frozen & chopped


In a small bowl, combine coconut flour, salt and baking soda.


In a large bowl, mix well the eggs, raw honey, coconut oil and vanilla. Mix dry ingredients into the wet, blending with a hand mixer or simply with your hand and a fork. Gently fold in strawberries.


Place batter in paper lined muffin tins OR oil small individual glass bowls and pour batter in about 1/2 – 3/4 full.


Bake at 350° for 20-25 minutes. Take them out and let them cool and serve topped with Strawberry Cream Cheese.




Strawberry Cream Cheese




1 cup chopped strawberries, fresh or frozen




Put everything in a blender or food processor and blend till smooth. Store in an airtight container in the fridge. When muffins are ready… generously top each muffin and enjoy!



So YUMMY! I wish I could go make some right now, but we are taking off tomorrow to the Caribbean side of Costa Rica with my in-laws. They wanted to take us there for Christmas and I am excited to explore the food over there. We will be back next week and hopefully I will have time to share about our time before we take off to the states…